Are you looking for the best baby shoes for early walkers? If your baby is walking on the earlier side, you're probably wondering what shoes you should put them in.
This post may contain affiliate links. GenThirty may make a small commission at no additional cost to you. Thank you for supporting this resource.
It's a momentous occasion when your baby takes their first steps. It's such an exciting milestone for us as parents and marks a big transition in our toddlers lives.
When it comes to shoes, if they're mostly inside, you'll want to keep them in bare feet as much as possible.
Your baby's feet develop best barefoot. Little feet are too often squished into shoes that often aren't the right size far too soon.
Finding the right shoe size may be challenging. That's why I suggest using Ten Little's free sizing guide. You can get access to it right here.
What to look for in baby shoes for early walkers:
As a general guideline, there are some important things you'll want to look for in shoes for early walkers:
A Wide Toe Box:
This is important for proper foot development.
You do not want the toes to be crowded but rather they should have ample room to spread out as they would if your child was barefoot.
A Flexible Sole:
A sole that is too firm can impede natural muscle development and stability as your child learns to walk.
Bonus points if they have a soft sole.
You should be able to bend the sole in your hands like this: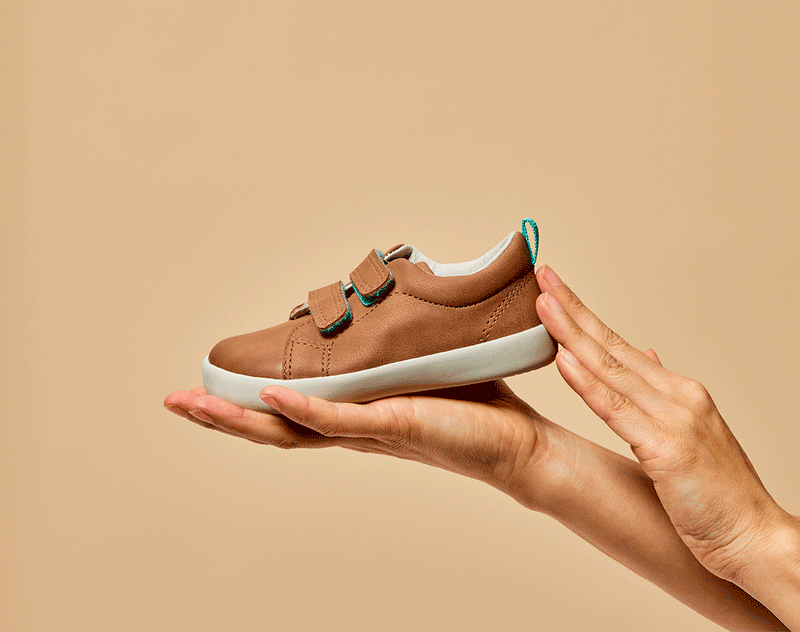 A Zero Drop Sole:
This is a quality of minimalist and barefoot shoes – the best option for proper foot development!
For early walkers, you'll want to look for a heel you can squish slightly between your fingers.
If there is nothing to squish, it is too soft. If it is hard to push it down, it is too hard.
Some Traction:
If you are putting your baby's feet in shoes to go outside, you'll probably want some traction as they learn to walk!
As they get older and if you go the minimalist shoe route, you do want the bottom of the shoe to have some traction as they learn to take navigate terrain.
A Velcro Strap:
These are helpful for added stability, though not strictly necessary.
Velcro straps are nice because you can adjust them to the size of your child's foot.
Toddlers lose fatty tissue in their feet as their feet grow so this is a nice feature, especially if your toddler has wide feet.
Some first shoes have a loop closure. This is okay but a velcro strap is better (especially closer to the heel) because it allows for more stability.
The Best Baby Shoes For Early Walkers
1. Ten Little First Walkers
Ranging from size 3-6 and coming in five color options, Ten Little's First Walkers are perfect for new walkers and little fit.
The first walker shoes have a velcro strap (two in fact), a flexible sole, and a wide toe box.
They are some of the best more minimalist style shoes you can buy for your little ones.
The tongue of the shoe also pulls out significantly far making it so easy to get the shoe on and off of your baby's feet.
I loved this feature as a parent trying to get shoes on little feet. Both of my kids walked around 12 months and this shoe was by far the easiest to get on their feet.
Ten Little also make great toddler shoes, among other things, that make them a great long term choice for your baby's feet.
Shop Ten Little First Walkers here
2. See Kai Run Stevie II First Walkers
Another really popular choice is from See Kai Run. It is the Stevie II First Walkers designed specifically for babies and toddlers who are just learning to walk.
They have a rubber sole which makes them ideal for navigating outside terrain. They have a wide toe box with a rubber cap that offers additional protection.
This shoe also has a wide opening and features fake shoelaces while securing the shoe to your baby's foot with a velcro strap.
The shoelaces are stretch so it's easy to get your toddlers foot in and out. My son had no problems walking in these.
They are also made with a breathable material so they are great for warmer weather too.
The See Kai Run Stevie II has been awarded the Seal of Acceptance from the American Podiatric Medical Association.
These come in sizes 4-10 and a variety of colors and styles to choose from.
3. Stride Rite
Stride Rite makes several great options for first walkers. They all have one velcro strap (except for the Hayden style), a wide toe box and soft sole.
Stride Rite offers many different color options so you'll likely find something that matches your style.
They have cute styles for a little girl and more toned down styles as well.
The Stride Rite styles, in my opinion, are a less expensive option to go for. However, they don't have the longevity of other brands on this list such as Ten Little or See Kai Run.
Our Stride Rite shoes were always falling apart within a few weeks of wear. So that's definitely something to take into account if your child is in shoes a lot of the time (like from going to day care, for example).
The top styles for first walkers are:
4. Ten Little Knit Baby Booties
If your baby needs shoes for indoor daycare, the best shoes option would be these Ten Little baby booties.
These are soft and allow your child's foot to move freely. They're great for tiny feet, wide feet, and flat feet too. They have an adjustable double-snap strap that allows for a secure fit.
The bottoms are cushioned and have a non-slip design that helps keep them steady on their feet.
They are made with a lightweight material and are a flexible shoe that won't hinder your baby's foot growth.
I loved these for the months leading up to when my son started to walk and for a few months after. They were easy to get on and off and for the most part actually stayed on his feet.
If you are just looking for daycare shoes, these moccasins are a good and very budget friendly choice that I would also strongly consider.
5. The First Walker by Robeez
Robeez were designed to help babies learn how to walk. They also come in a variety of widths to ensure a perfect fit for your little walker.
Their shoes are wide and flexible making them a good choice for babies with a wider foot. Additionally, they have soft soles allowing them to feel the ground through the sole. They look like real shoes on top and come in all different colors and styles.
The good news is, all of Robeez's shoes have the American Podiatric Medical Association's Seal of Acceptance for promoting normal foot function!
If you have a child with narrow feet, I would suggest the slip on styles. I would skip the boots from Robeez if your baby has extra wide feet. They are harder to get on a child's feet, speaking from experience.
6. Peggy Piggy Soft Sole Sandals
I wanted to make sure there was a sandal option in this guide as well. These shoes are very lightweight and have a flexible sole while still offering support to early walkers with the anti-slip features.
They have a rubber outsole that also allows for natural movement and healthy foot development.
These sandals are also more of a budget option as well. They make great shoes if you don't need your little one to be in them for long.
---
First Walker Shoes FAQ
Is It okay if I put them in different shoes for special occasions?
This is a really common question. The answer is is that yes, it is okay!
If you want to put your baby in specialty shoes for photos or one event, there will not be long term damage from these one-off instances. It's what they wear most of the time that makes all the different.
How do I know if I'm getting the right size?
Most brands will have sizing guides. I've found Ten Little's to be the most accurate. You can get a print out of it here.
Otherwise, you can go to your local shoe store and have them measure. Even if you don't purchase shoes there, they can help you get the sizing correct.
What do I need to look for in shoes for early walkers?
Really there are a couple of things that can make all the difference in shoes for early walkers.
Beyond making sure they are the right size, you want to look for a wide toe box. This ensures that your child's feet
Final Thoughts on the Best Baby Shoes For Early Walkers
I hope this list helped you pick our a pair of baby shoes suited for your new walker! Congratulations on this fun and exciting milestone in your baby's life.
After going through many, many pairs of shoes, Ten Little is my top choice. They have the best longevity of all of the brands we have tried.
Let me know if you have any questions in the comments!