It's summer. It's hot. You want to take your littles out for a dip in the water. They'd love it! Water play is ALWAYS a hit. But wait… is all that chlorine safe? Is it a good idea to put my baby or toddler in a hot pool of plastic water?
I was recently doing research into a non-toxic baby pool option for my kids. Over the past year or so, my family has taken steps to replace many of the products we use on ourselves and our kids, like sunscreen, as well as the products we bring into our home.
Unfortunately many of the products companies make contain materials that are harmful to human health and the environment. The materials are often unregulated and untested and the responsibility falls on us–the consumers–to make better choices for ourselves.
On my hunt for a non-toxic baby pool, I did some digging around and found a few options I think are worth sharing.
Truthfully, there are not many truly non-toxic options when it comes to baby pools. Many of them contain toxic chemicals I don't want to expose my kids to, especially in the summer heat where the chemicals leach even more.
Table of Contents
This post may contain affiliate links. GenThirty may make a small commission at no additional cost to you. Thank you for supporting this resource.
What To Avoid In a Baby Pool
So you're probably wondering what to materials avoid in a baby pool, right? Well the main answers are Polyvinyl Chloride or PVC (sometimes listed as just "vinyl") and bisphenol-A or BPA.
PVC contains things like phthalates (known to damage the kidneys, liver, lungs, and reproductive system), cadmium, and lead, among other things. It's harmful to the environment too as it releases chlorine into the air.
BPA has been linked to cancer, mimics estrogen in the body, disrupts the uterus and ovaries along with causing altered brain development and other abnormalities. This is why you'll see "BPA-free" on a lot of packaging. But the alternatives many companies are using aren't safe either.
The bad news is that a lot of pools and inflatable kiddie pools contain these harmful plastics. PFAS from plastic can cause a myriad of health issues, especially for young children.
The good news is that you're here to do some research to find safer options for your kids for those who want to be mindful of their child's health.
Plastic Resin Codes – What To Know
This is a general overview of what the numbers on plastic items actually mean:
is polyethylene terephthalate or PET. It is used in plastic cups or water bottles and other packaging.
is high-density polyethylene or HDPE. It is found in milk containers, plastic bottles, and plastic cups.
is polyvinyl chloride or PVC (it can also be listed as vinyl). It's found in everything from clothes to pipes to shower curtains to toys.
is low-density polyethylene or LDPE. This type of plastic is in a plastic bag, the plastic six-pack rings, and bottles.
is polypropylene or PP. You'll find this in auto parts, dish ware, and food containers.
is polystyrene or PS. This is in plastic utensils, coffee lids, toys, packing peanuts, and styrofoam.
is other plastics including bottles, plastic lumber, headlights, and safety glasses.
The numbers you don't want to use for a baby pool, even if you don't buy one on this list are 1, 3, 6, and 7. They are the worst for your baby and the environment. If you do have to go with something made of these, look for phlatate -free or BPA-free on the labels.
Alternatively, safe options to choose are 2, 4, and 5 number plastics. Hard plastic pools with these code numbers are a great option, safer plastics, and a great way to limit your kids and family members exposure to harmful chemicals from plastics.
If you want a safer option for your wading pools or even your water table this summer, the best way is to look for these numbers of plastic and follow the tips below.

Best Non Toxic Baby Pool Options To Buy
So here are the options best non toxic baby pool options on the market currently: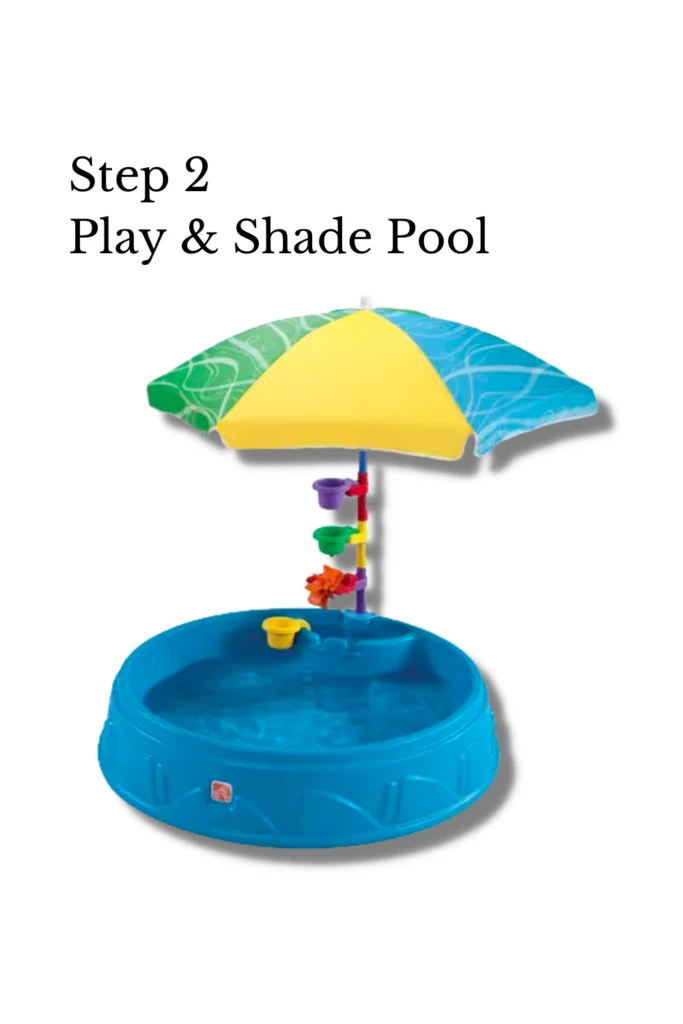 This is the pool you'll find at the top of every non-toxic baby pool list. It's made of hard plastic (HDPE, #2) and is very durable.
It's also affordable at under $90 (often less) and should last for years when cared for properly!
It's one of the best hard plastic kiddie pools for a young toddler. This is the best choice in my opinion. It's the perfect size for little kids and comes with some water toys.
Details:
Features two molded-in seats in the shade and the designs molded-in to the bottom of the pool provide traction
40 inch umbrella that acts as a removable canopy
Includes 3 funnel cups and a fun spinning water wheel
Holds up to 12 gallons of water or 165 lbs. of sand (not included)
Easy to clean: use Force of Nature
This pool is a small option good for a place where you can dig a hole to put it in and fill it up, most likely at the beach.
This is a great choice as the best kiddie pool for travel.
Details:
It is made from TPU material which can be recycled, it is bio-degradable and phthalate free
Most suitable for age 3+
Lightweight – weighs 1lb
Measures 70.86 x 70.86 x 0.19 inches
I this would be so much fun to pack on a beach trip – it's a great option to let your kids play in the water while keeping them safely out of the ocean.
The SLICE SLICE BABY MINNI-MINNI luxe inflatable pool
The baby pools from MINNIDIP are a super cute option for a small backyard pool for a toddler or young child. As far as plastic inflatable pools and inflateable kiddie pools go, I would be comfortable using this one. I think older kids would like this too.
Details:
Non-toxic 10 Phthalate-Free PVC material
Does not contain lead or heavy metals
Suitable for ages 3+
Measures 4 feet across and 1 foot high
Two air chambers
Why Aren't There More Non-Toxic Baby Pools?
I wish I could give you more pool options on this list but the truth is that many baby pools are made from PVC and vinyl.
When these are heated up in the sun, they release dangerous hormone-disrupting chemicals into the water. These ARE NOT TRULY NON-TOXIC options and I don't think they deserve to be highlighted on a non-toxic baby pool list.
If you are looking for a list of *better* but not perfect options, knowing that they are made of less-than-idea plastics, here are some additional options to consider:
These are better options as long as you don't store them in a warm area, empty them after use, and put your babies in the bath post-dip.
Non-Toxic Pool Toys
If you're looking for non-toxic baby pool toys to add to the mix, I suggest looking into Green Toys – a brand that makes toys out of recycled plastics that are durable for indoor and outdoor play.
If you do have plastic pool toys, keep them clean and out of direct sunlight when you can. This can help reduce the negative effects of the plastic.
How To Keep Your Pool In Good Condition
When plastics are heated up (such as sitting out in the sun) they release more chemicals into the environment. And with a pool, the plastic is releasing things like phthalates into the water, which your kid will then play in. Not an ideal situation.
Try to keep your pool in a shaded area and out of direct sunlight. I also recommend emptying the water out of it when you're not using it.
Is it ideal to refill the pool every time? No. But if you have a small pool, it's not as big of a deal. This keeps the water fresh and avoids having to use chlorine or other chemicals in the water.
Adding fresh water each time means your kids aren't sitting in pool water full of chemicals.
Clean your pool with Force of Nature between uses to keep any mold from growing.
This is how we maintain our kids pool in the summer and I think it works great. When they get older, I hope to have a larger pool but we will cross that bridge when we get to it.
In Summary
Hard plastic kiddie pools might not be the most convenient choice but they are a safe option as those types of plastics avoid harmful chemicals like added phthalates that are added to an inflatable swimming pool to keep the material pliable.
\Don't let the health risks of plastics get in the way of your summer fun! There are a decent amount of safer options and non-toxic baby pool options to choose from.
Enjoy your hot summer days with your kids! The years go by quickly.