As you get older, you start to notice more signs of aging. Things like crows feet, laugh lines and wrinkles, sagging skin, and dark circles start to apear.
Aging, in my opinion, is just a fact of life and nothing to be ashamed of! And in the same breath, I also don't think there is anything wrong with wanting to keep your skin healthy either.
Protecting your skin is a worthwhile endeavor! If you're looking specifically for anti-aging creams for your 30s, this list will cover 13 at all different price points with quality ingredients.
We've talked about anti aging tips for your 30s, the best night creams for your 30s, and the best eye creams for your 30s. In this post, we're going to talk about 15 of the best anti aging creams for your 30s.
Ingredients to Look For:
There are many anti aging creams on the market so it can be hard to know what to narrow down. Here are a list of well-known ingredients to look for while you're browsing for anti aging creams for your 30s.
Retinol: Using a retinol promotes collagen production which reduces the appearance of fine lines and wrinkles. This is also known as Vitamin A.
Hyaluronic acid: Naturally found in the body, this ingredient plumps skin and keeps it hydrated. Used with amino acids, these can improve the moisture barrier and appearance of wrinkles.
Antioxidants: Most often seen as skincare ingredients as Vitamin C, Vitamin E, and vitamin b3 these powerful antioxidants help protect against free radicals from environmental damage.
Vitamin C: This ingredient helps improve sun damage and also helps fade dark spots and marks. A vitamin C serium can be a great addition to your morning routine too!
AHAs: Alpha-hydroxy acids like lactic acid, glycolic acid, and salicylic acid help exfoliate and brighten skin and encourage cell turnover for a brighter complexion. This also helps with skin texture!
Always use a facial SPF too to protect against uv rays! These can contribute significantly to visible signs of aging.
These key ingredients for anti-aging can be present in all steps of your skincare routine. From your day cream to your eye cream to your face masks, these ingredients will work synergistically together in your skincare products.
This post may contain affiliate links. GenThirty may make a small commission at no additional cost to you. Thank you for supporting this resource.
13 Best Anti Aging Creams For Your 30s
This moisturizing uses cutting edge technology (literally from hydrolyzed sponges!) and star marine ingredients like pearl powder and jelly fish extract to moisturize the skin, firm and smooth fine lines, and hide wrinkles.
It even helped my skin with redness! Check out my full review here, and grab it for an AMAZING price below! The sponges give a little tingle to the skin to help the powerful ingredients penetrate deeper for more youthful skin. You have to try it for yourself to see what I mean!
LAMARINE SKINCARE Moisturizing Cream
$35.49
$23.49 ($13.82 / Ounce)
Enriched with Jellyfish Extract, Hydrolyzed Sponges, and Pearls. Its delightfully soft texture and outstanding moisturizing effects make skin firmer while fine lines and wrinkles less visible.
Jam-packed with skin-loving ingredients, this overnight cream is perfect for retinol beginners. It has a thick and creamy texture that hydrates while the retinol stimulates collagen production overnight.
Pair it with the A-Game serum for a dynamic duo that will leave you with gorgeous skin. Both are good for all skin types.
Top Pick
FLEUR & BEE Retinol Moisturizer
You'll see a difference in your skin from our unique combination of Retinol, Plant Stem Cells, Evening Primrose Oil, Vitamin E, Coenzyme Q10 and many other powerhouse ingredients blended into the best best retinol face cream for aging skin.
With over 900 five-star ratings, this vegan collagen formula sustainably produced from algae improves the look of fine lines and skin suppleness.
It's best for dry, combo, and normal skin and is well-loved by all age groups1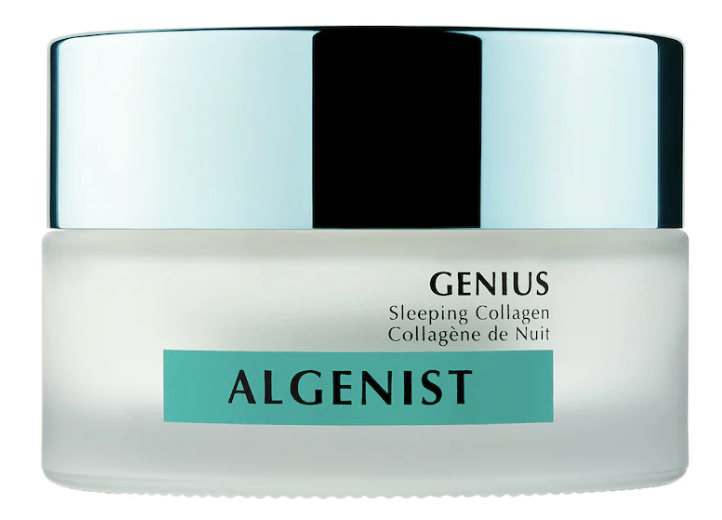 This deeply hydrating facial moisturizer from Cetaphil is fragrance-free and designed for sensitive skin.
It has ingredient like hyaluronic acid, Niacinamide, Vitamin B5, and antioxidant rich Vitamin E to nourish and rehydrate dry skin. It's also affordably priced as well!
Best for all skin types, this moisturizer targets fine lines, wrinkles, dryness, and loss of firmness and elasticity while being deeply hydrating.
In a 28-day clinical study of 35 women, ages 36-60, after 28 days of twice daily use, 97% agreed their skin appeared firmer after 4 weeks.
The formula features ceramides, fatty acids, hyaluronic acid, and squalane for hydration you can count on.
This moisturizer is unique because it's both a serum and a moisturizer treatment in one!
The unique formula from Tatcha visibly calms irritation, strengthens your skin's natural moisture barrier, as well as balances its microbiome for a healthy and hydrated glow!
This fragrance-free formula from Olay is not only all the anti-aging benefits of collagen peptide and vitamin B3 at an affordable price point but it also comes with a free sample of Olay's Regenerist Whip Fragrance Free Face Moisturizer as well. Plus it promises instant results!
Bundle up with this affordable anti-aging face care set from Rowe Casa Organics that features all natural and clean ingredients in glass packaging!
Formulated specifically for aging skin, this set doesn't compromise on quality. You can also add bakuchiol (plant-based retinol) and frankincense to the set for added benefits.
Jam-packed with skin-loving ingredients in a vegan and gluten-free formula, Crunchi's Nightlight facial cream revives skin with organic jojoba and argan oils, brightens with antioxidant-rich rose petals, ginkgo biloba, and sage, while rejuvenating dull skin with hibiscus flower acid.
This facial cream uses shea butter, organic aloe vera, wildcrafted green team, Vitamin E and B5, organic jojoba oil, and hyaluronic acid to fight pre-mature signs of aging.
It contains 1% retinol for those with sensitive skin. With over 700 five-star reviews, it's worth trying at such an affordable price point!
An Allure 2020 best of beauty winner, this moisturizer is known for helping with the loss of elasticity in skin as we age. It's mostly loved by people with combination skin and oily skin.
The Honey Halo from Farmacy is intensely moisturizing and deeply nourishing as it is filled with ceramides that naturally plump the skin. It has a thick texture so a little goes a long way! It's best for dry to normal skin.
Also as a neat bonus, you can email the company at recycle@farmacybeauty.com for free shipping label to recycle the spatula and jar!
A popular pick for dry and dehydrated skin, this facial cream is full of collagen, peptides, and niacinamide to firm and plump skin.
In a consumer perception study with 30 participants after 4 weeks, 100% said their skin felt and looked instantly hydrated and nourished.
---
In Summary: Best Anti Aging Cream For Your 30s
And there we have it – the best anti-aging creams to try in your 30s!
Hopefully you found at least one anti aging cream to try from this list!
The best anti aging cream has several active ingredients that fight against signs of aging like retinol, antioxidants, hyaluronic acid, and niacinamide.
Make sure you pick one for your skin type! Gels work best for oily skin and thick moisturizers for dry skin. And of course, avoid ingredients you might be allergic to! Happy anti-aging!