Are you a bored stay at home mom looking for ideas for things to do? Here are 100 ideas for both you and your kids to inspire you!
Being a stay a home mom can be both boring and overwhelming. Parenting is hard work. The to-do list feels never-ending but there are also some fleeting moments of down time throughout the day that you might want to fill with something other than playing on your phone.
As a new mom, you might find that you have weird pockets of time that you didn't before. If you want to do something with them instead of just spend time on social media, I have plenty of ideas. You can do these during nap time or when your kids are awake too.
I've always found that having things that I care about doing makes me a better mom. It's better for my mental health to have adult conversation and not just take care of the kids all day. As a work-from-home/stay-at-home mom myself, I don't have hours on end for a social life like I once did but there are still a lot of ways I engage myself mentally and physically everyday.
If you're a bored stay at home mom looking for ideas for things to work into your daily schedule, this list will cover 100 ideas to keep you inspired and entertained, with or without your kids!
This post may contain affiliate links. GenThirty may make a small commission at no additional cost to you. Thank you for supporting this resource.
100 Bored Stay at Home Mom Ideas
1. Get out of the house for some "me" time
It's important to maintain a sense of your identity by having time to yourself. Even if it's just an hour per week, take that hour as a guilt-free moment to spend time doing something you enjoy.
2. Make a list of all the things you've been wanting to do but keep putting off
How often do you actually sit down and do a "brain dump" of sorts? Write down everything you want or need to accomplish in the next month. This way when you catch yourself feeling "bored" you can refer to the list and hopefully check something off!
3. Learn a new skill or hobby
Lifelong learning is also a good thing to model to your young children! Take time to learn a new hobby in front of them. It will be beneficial to all of you! We also have a list of hobbies for moms too.
4. Read that book you've been wanting to start
Books are a wonderful way to practice escapism in you everyday life. And it doesn't have to be something hefty either, you can read a lighthearted romance or even a young adult novel.
5. Catch up on your favorite TV show or movies
This is likely a go-to for many moms but it can also be a fun family bonding time to watch older movies or ones from your childhood.
6. Work on a puzzle or Sudoku
These you can work on throughout the day to keep you mind sharp.
7. Get organized – make lists, purge your closet, deep clean the house
Organizing is one of my favorite tasks and a deep clean always feels so good!
8. Have a girls night in with some close friends
From the planning to the time spent together, you'll enjoy every second!
9. Get out and explore your city – visit new places, go on walks/hikes
A little walk always makes everything better. Gather up the kids and get outside together.
10. Attend a meetup or local event that interests you
There are always lots of programs and events going on. Search your local paper or online Facebook groups to find meetups with similarly-minded people.
11. Workout! Join a gym, take some online classes, go for runs/walks
Find a gym with childcare options and you'll have an hour to yourself to workout! Plus there's the health benefits as well.
12. Pamper yourself – get a massage, manicure
This is both relaxing and self-esteem boosting.
13. Play games outside
Nature is great for the mind, body, and soul. Take some games you'd normally do inside, and play them outside!
14. Volunteer your time
Giving back is a great way to feel good about yourself. You can volunteer at a local soup kitchen, animal shelter, or even in your child's school.
16. Have a dance party
Get your groove on by yourself or with your kids! This is a great way to get some energy out.
15. Go stargazing
Do you ever lay outside under the stars and just think? Take some time to do just that and you'll find yourself relaxed before bed.
16. Visit a nearby city or town you've never been to before
Everyday doesn't have to be the same! visit a new place that's nearby for both inspiration and to bust boredom.
17. Spend the day at a local museum or art gallery
Museums often have kids programs too so they'll be entertaining to your little ones as well.
18. Take your kids (or go by yourself!) to an amusement park or water park
This can be a big undertaking for parents so make sure to bring another adult with you so you can tag team the day.
19. Have a movie marathon – pick a theme and watch all the movies you can find on that topic
It will be fun for both you and your kids! We just had a Harry Potter marathon and it was so much fun! You can do this with any series or genre of movies.
20. Make a fort or blanket fort in your living room
Blanket forts can solve a lot of problems. From whiny kids to moms who just need a minute, a blanket fort can really be an afternoon-saver.
21. Do a home spa day
Think face mask, cucumber water, at-home manicure/pedicure – your kids would probably even like it too!
22. Plant a garden
This can be a fun family project that you can all enjoy for years to come.
23. Go for a bike ride
Biking is good exercise but it's also fun to be outdoors and get fresh air and it will keep the kids quiet for awhile too.
24. Do a jigsaw puzzle
Many people find puzzles relaxing and your kids might like them too.
25. Make homemade pizzas
Food that is also an activity? Sign me up! A weekly pizza night is something we all look forward to.
26. Learn to knit or crochet
If this is always something you've wanted to do, why not give it a try! You can learn your way through the stitches and then maybe even make holiday presents for friends and family. Kits from The Woobles make it easy.
27. Start a blog or website
If you're into starting a side hustle, a blog or website, or even an Instagram or a TikTok account could be a good way to go.
28. Make homemade ice cream
Again, another food and activity in one – sign me up!
29. Create a vision board for your life goals
This is a great activity to do on a rainy day or even if you're just feeling down! It can inspire you to set and work towards more goals in life.
30. Journal
Writing can be therapeutic and it's a great way to get your thoughts out. You don't have to be a great writer, just write what comes to mind.
31. Take your dog for a long walk or to the dog park
If you have a dog, it makes for a great reason to get out of the house and go for a long walk in nature or check out new trails.
32. Have a game night with friends – board games, charades, etc.
As a stay-at-home mom, it's nice to have some adult time too. You can play these with other adults or do a kids board game. We really like the Haba games in our house.
If you can't play with your friends at home, you can also play online. For example, you can play Hearts both against the computer or live against your friends. Best of all, with such online games, you don't have to keep track of the score or shuffle the cards, it's done for you!
33. Make homemade candles
There are plenty of kits you can buy to get started with this!
34. Go through your old photos and scrapbook them
A fun way to relive the memories of years past and also be creative!
35. Learn to play an instrument
A noble undertaking usually reserved for kids. My best friend learned to play piano in her 20s and even did recitals, so it's definitely possible!
36. Do a home photo shoot – either by yourself or with your family
A fun way to learn about photography and even get some cute shots out of it! If you love photography this could be the perfect job for you too.
37. Go for a walk in your neighborhood and wave to everyone you see
Both a challenge and an activity. Try it out and see if it improves your mood!
38. Make homemade Play-Doh
Making homemade play-doh is super easy and there are way to make it taste-safe for little kids too.
39. Bake some cookies or a cake
Especially fun if you match it to the season or an upcoming holiday!
40. Do a home workout using an online video or fitness app
My favorite for moms is called GET MOM STRONG.
41. Have a karaoke night
Let loose!
42. Learn a new recipe and cook it for dinner
I found a new love for cooking by trying new recipes. It helps mix up making yet another meal.
43. Go on a day trip to somewhere nearby – the beach, the mountains, etc.
Either by yourself or with your kids, a change of scenery can do wonders for the mind, body, and soul.
44. Make homemade soap
You can definitely get a kit with this and your kids will love joining in too.
45. Learn origami or calligraphy
Calligraphy has always been on my to-learn list but the timing has never added up. If you're finding yourself bored as a stay at home mom, this will definitely be something that will benefit you as your kids get older!
46. Do some window shopping at local stores or online
Grab and iced coffee and make an hour of it!
47. Have a picnic in your backyard
Lunch outside can be a good change of pace from eating lunch at the table again.
48. Go people watching at a nearby park or cafe
Most people find this pretty calming!
49. Go to a farmers market or flea market and find some unique treasures
The farmers market is fun for the whole family. They're usually pretty seasonal but some places have year-round farmers markets.
50. Go on a photo walk and take pictures of everything you see
A photo walk is a good way to slow down and really appreciate what's around you.
51. Make a list of things you're grateful for each day
Practicing gratitude is the key to a happy life.
52. Clean out your downloads folder on your computer
If you're like me, you download a lot of resources from the internet that they clog up your downloads folder and desktop. Take some time to clean that out so you feel less chaotic.
53.Write a letter to a loved one
Letters are a lost art and most people like receiving mail (especially that is not junk or a bill).
54. Make homemade jam or preserves
This is surprisingly easy to do and everyone will love it!
55. Attend a local concert or play
One of my mom friends does this as an activity by herself and she loves it!
56. Go on a road trip and explore different parts of the country
This requires more planning but it's something to look forward to!
57. Try out a new restaurant or cafe
There are likely so many local places you've never been to. Try them out!
58. Go to a local sporting event
Make it a date night and surprise your partner with tickets.
59. Learn to ballroom dance or take a salsa dancing class
Even learning a choreographed dance on YouTube is fun. I recently introduced my toddlers to the Cha Cha Slide and they thought it was hilarious.
60. Make a scrapbook of your life so far
There are a couple of apps like Chatbooks that make this particularly fun!
61. Go hiking in a nearby forest or nature reserve
Getting outside can really help reset the mood.
62. Have a themed dinner party – Mexican night, Italian night, etc.
Get everyone in your family involved – have them research and make a dish or a decoration to join in.
63. Make a gingerbread house
You can do this any time of year, not just around the holidays!
64. Go shopping at a local boutique or vintage store
Check out places you'd usually not go into – you might be surprised at how it inspires you!
65. Make a Christmas wreath or decoration
A friend of mine makes wreaths and sells them for all occasions and season! It's a great side hustle for her.
66. Go ice skating at a nearby rink
Ice skating takes me back to high school, we used to go all the time!
67. Visit a local zoo or aquarium
This might have crossed your mind before but why not check it out!
68. Make homemade Christmas gifts for your friends and family
I am planning to do that this year. It's something all my family members will love and I have different ideas for each of them!
69. Plan your dream vacation
When you really think about where you'd like to go and what you want to do there, it's fun to daydream!
70. Go sledding or tubing at a nearby hill
There doesn't even have to be snow to do this! Use cardboard on a grassy slope and have fun!
71. Take an online class
Platforms like MasterClass make it easy to learn new skills from experts!
72. Make homemade bath bombs
Another thing you could buy a kit for but that either you or your kids can enjoy!
73. Design t-shirts for your kids on a Cricut
Something that's both fun and practical that also requires creativity!
74. Go on a winter nature walk or hike and look for animal tracks
This is a good thing to do with kids and gets you out of the house in the coldest season.
75. Decorate for a holiday
Whether it is the season or it is a holiday or event, take some time to decorate your home for it!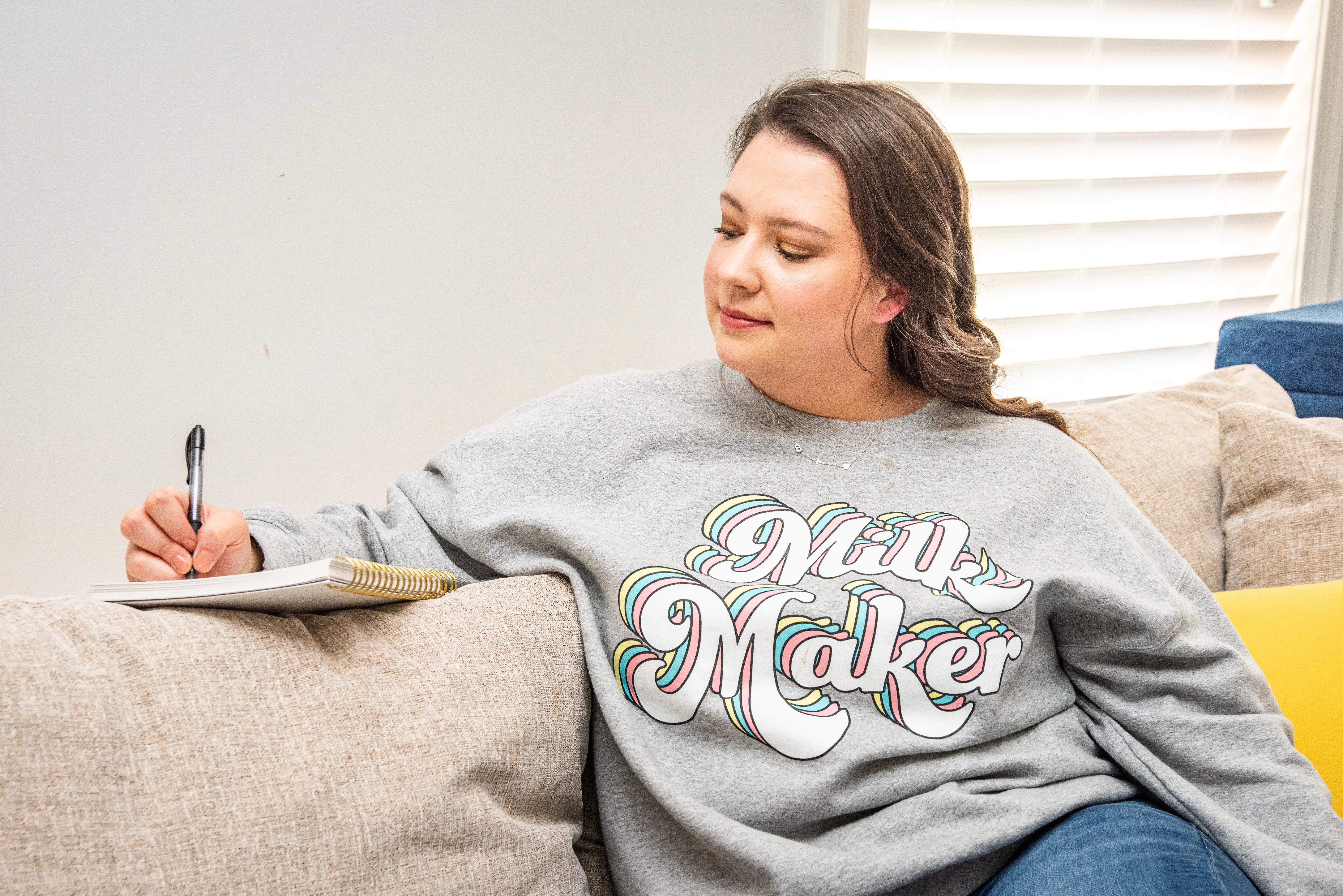 76. Rearrange furniture
A quick rearrange can help you feel like your space is brand new, without purchasing a thing.
77. Go to a coffee shop
As any stay-at-home parent knows, its nice to take a break. Go to a coffee shop by yourself and just hang out for a few hours.
78. Make a fire in your backyard or at a nearby park and roast marshmallows
I can't wait until my kids are a little older to do this! It's so fun!
79. Have a snowball fight!
The perfect winter activity.
80. Make handmade cards
I love handmade cards and love having my kids do drawings in them. I'm not a very creative person and even I can make it happen!
81. Go Christmas caroling in your neighborhood
Find a group you can join!
82. Attend a local holiday festival or fair
I feel like I'm always the last to know about so many events around us, but if you know of any coming up, make sure to go!
83. Write a short story
Try your creative hand at writing and write a short story about something that inspires you. There are lots of prompts online that you can use!
84. Go thrifting
This is something so many people love to do. You can find some amazing things secondhand!
85. Go to the library
There are always events happening at the library that you can go to, even if its just to browse!
86. Listen to classical music
There are so many benefits to listening to classical music, and its a great way to relax!
87. Train for a race
Whether you want to tackle a 5k or a marathon, start a training program – you'll find yourself looking forward to the time alone.
88. Set up a lemonade stand
This is a great activity for ages 4 and up with some parental help!
89. Go to a pick-your-own farm
This is something we love to do as a family in the summer! There are often other activities going on too, like hayrides.
90. Make floral bouquets
Whether you pick flowers in your backyard, by some stems, or grab fake ones, making your own bouquets is fun for everyone.
91. Resell things on Mercari or Poshmark
If you want to make some extra money, list some things on these apps that you no longer use and you'll make some extra spending money!
92. Meal plan
I always do better with my grocery budget when I meal plan. Take the time to do so!
93. Make handmade Christmas tree ornaments
There are so many tutorials online that could turn out to be super fun for you to try.
94. Paint a room
I recently redid my guest bathroom and it was so much fun for me to do it in a way that looks nothing like the rest of my house. And it was the first room I ever painted alone!
95. Start a podcast
You definitely have something to say and there's someone who wants to hear it
96. Start a virtual story time with mom friends
My friend and I do this where we alternate reading books and it's fun for all of us and our kids.
97. Try different coffee recipes
If you love coffee like I do, you'll want to try to make your own creamers and try different recipes. It's fun, tasty, and caffeinated.
98. List some gigs on Fiverr
Maybe your skill is writing or designing pins for Pinterest or are great with voiceovers. There's no limit to skills you can list on Fiverr! It's also a good way to make some extra income and the first step is listing your services!
99. Turn your favorite kids book into a puppet show or play
This is something you can enjoy and be creative with and your small children will engage with too!
100. Use the 1 Second Everyday App to record snippets of your life
I did this for my oldest son's first year and it is such a sweet video to look back on.
In Summary: Bored Stay at Home Mom Ideas
Whether you're a working mom who works at home or is on maternity leave, there are ideas here for everyone. Being a mom is a full-time job wheter you work outside of the home or not. If you're looking for work from home mom jobs, you might consider monetizing your skills by starting a business or selling on Fiverr or resale apps.
Alone time is necessary to recharge. Create that safe place for yourself by doing one of these activities every day. You're doing a great job at the most reward job in the world and everyone deserves short breaks.
Make sure to check out our other blog posts below!