Hobbies are a great way to pass the time and enjoy yourself. Whether you're into sports, playing board games or even watching movies, there's something for everyone. There's plenty you can do in your free time to help enjoy your life a little more. The best hobbies are the ones you deeply enjoy doing so make sure to keep trying things until you find one you love!
There are hobbies suited for all kinds of different men: artistic, nature-oriented, and so on. Here is a list of 100 hobbies for men in their 30s to try out at least once. If you're looking for ideas, check out the list below!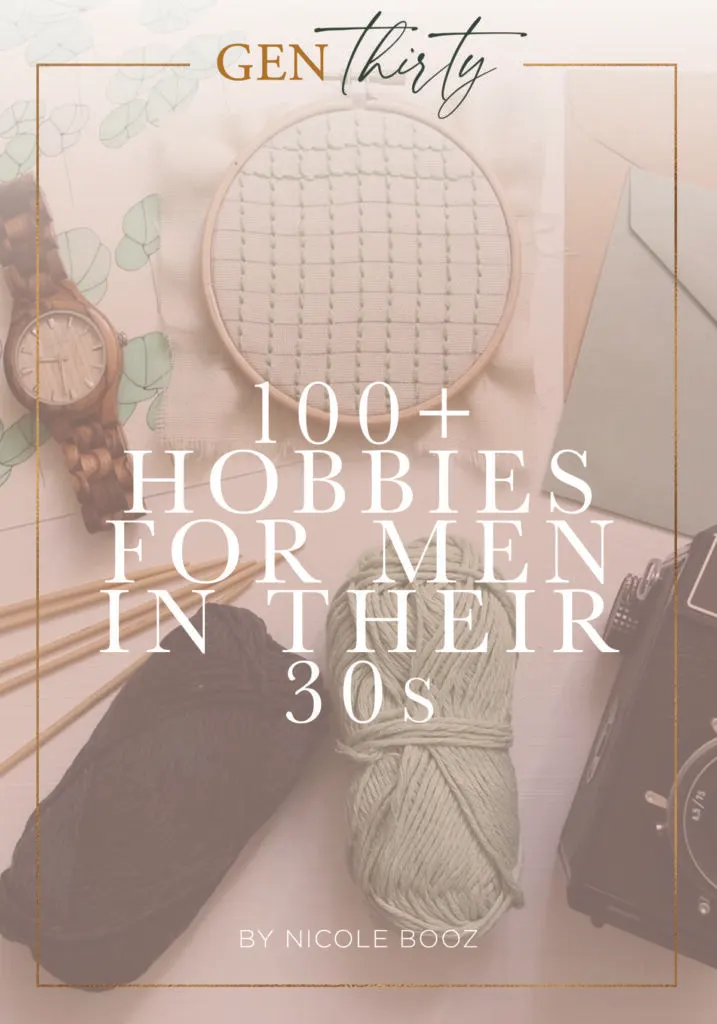 100 Hobbies For Men In Their 30s
1. Camping
If you need a new hobby, camping is a really popular activity for both men and women. It's a great way to enjoy the outdoors, commune with nature, and experience some alone time away from your busy life.
2. Archery
Archery is an excellent sport that can be enjoyed by both men and women. It teaches focus, concentration, patience, discipline and self-control—all necessary tools in becoming a successful man.
3. Rock Climbing
Rock climbing combines outdoor adventure with physical exercise like no other sport can do!
3. Hunting
Whether you're hunting alone or with friends, this hobby is a great way to get away from the city and enjoy some peace and quiet in nature.
4. Fishing
Fishing is an excellent pastime for men that love the outdoors. It's also a great opportunity to bond with family members and friends.
5. Gardening
Gardening is a great way to enjoy the outdoors and maybe even learn something new. Not only that, but you can also save a lot of money by growing your own vegetables!
6. DIY projects around the house
I'm sure you already have a list that's a mile long so why not work on your DIY skills while you're at it!
7. Hiking
Hiking is more than just exercise; it's an opportunity to explore nature and enjoy the beauty of Earth. Get out there and explore the great outdoors!
8. Meditation
Meditation is a great way to relax and reflect on your life. Plus, many successful women and men swear by this technique!
9. Learning a new language
Learning a foreign language takes lots of practice and is great to keep your brain sharp.
10. Spending time with family and friends.
Spending time with family and friends is great for your mental health.
11. Dancing
Dancing is a great way to learn some moves, meet new people and have fun. And it's great exercise!
12 Skiing
Skiing is fun if you live somewhere colder! From experience, skiing is always a good time.
13 Jogging
Jogging is great for your body but also for your mind. This is one of the best ways to spend your time!
14 Backpacking
For the guy that loves the outdoors, try this!
15 Running/Walking
Similarly to jogging, running or walking is a good way to work on your fitness.
16 Start a podcast
You probably have something interesting to say! Podcasting is one of the most fun new things to try.
17. Reading
Reading has rewards beyond imagination. You can escape the mundane nature of reality and enter into another world where there are no limits, you are your own master—and the possibilities are endless.
There is a variety of reading materials you can explore too. Magazines, storybooks, comics, and graphic novels are only a few to mention. You can get some from your local bookstore or you can pick one from a comic book price guide.
18. Traveling
Traveling is a fun hobby. From researching the destination to actually going, you'll have the best time.
19. Photography
It's never too late to pick up a camera! Look for a great place nearby and start snapping pics! Or take up graphic design in your spare time. Share your work on social media!
20. Road trips
Driving around catching the sights? Oh what fun!
21 Martial arts
Martial arts is great for the body but also for the mind. It's a good thing to do.
22. Going to the movies.
The lights dim, the curtains are drawn back and suddenly you find yourself being whisked away to another world where reality exists only within the confines of the cinema screen. There's something exhilarating about this experience that can't be beaten.
23. Cooking
Cooking is a lot of fun and you get to share your creations with loved ones, what a great way to bond! There's really no better way to spend your time!
24. Strength Training
Strength training builds confidence in men and can really help towards achieving your fitness goals. It's also good for the heart! If you need help figuring out how to start strength training, take a look at this article:
25.Playing board games or cards
If you loved games as a kid, you'll probably love them as an adult too! Games make for fun hobbies.
26. Skateboarding
Pretend you're Tony Hawk, I'll never tell. If you skateboarded in high school, see how your skills are now!
27. Yoga
Yoga is a great practice at any age! It's a great workout and you'll get better at it if you do it on a regular basis.
28. Playing video games
Video games are a great way to pass the time and enjoy yourself.
29. Bird Watching
If you like nature and animals, bird watching is an interesting hobby that can be practiced practically anywhere in the world.
30. Outdoor concerts/performing arts events
There's nothing better than getting out in your community and supporting local productions!
31. Chess
If you really want a challenge, take up chess! It's simple and doesn't cost much money.
32. Mountain biking
Mountain biking is a great way to get in the outdoors and enjoy the beauty of nature.
33. Snow sports
If you live somewhere where it snows, try out some new sports! This is one of those popular hobbies you can do with a lot of guys. It will cost a little money to get started but it's an investment you'll enjoy!
34. Craft beer or wine tasting.
Tasting different kinds of craft beer or wine is a fun way to bond with friends.
35. Magic
If you love illusions, magic would make a great hobby for you!
36. Hiking through National Parks
There's something beautiful about seeing your country in its natural state that can't be beaten.
37. Bouldering
Bouldering is exciting and helps to push yourself further than ever before.
38. Sculpting
If you have a creative side, sculpting can be a fun activity to work on with friends or alone!
39 Cross stitch/Sewing
Sewing is a great hobby to take up for making gifts for your loved ones. And it looks really cool if done well!
40. Make a website
If you love to write, making a website would be very fulfilling.
41. Do art at a cafe
Cafes are great for this because you don't have the hassle of cleaning up after yourself!
42. Go geocaching
Geocaching is a fun activity that can be done alone or with friends.
43. Make a piece of art
Make some art! Painting, drawing or sculpting—any will do! Maybe try paper maché!
44. Learn to play the harmonica
Not only will be a lot of fun, but it will be a great party trick in the future!
45. Talk to strangers
For many people, this is initially difficult but is actually very rewarding in the long run.
46. Start a blog
Start a blog if you have something that needs to be said!
47. Remote control boats
If you like the water but not fish, try remote control boating!
48. Go river tubing
River tubing is fun and relaxing. It almost feels like you're flying!
49. Start a band
If you really love playing music, start your own band! It can be great fun to play with friends.
50. Volunteer/Join the Peace Corps
There are so many ways that volunteering can help people in need and it's also very rewarding for yourself. Not only that but joining the Peace Corps is a great way to travel the world giving back.
51. Join a sports league
A great way to pass the time and make new friends.
52. Consider becoming an actor
Considering becoming an actor can be a scary commitment but there's no better feeling than getting up on stage and performing for all those who come.
53. Get into improv comedy
Improv comedy is great fun and a great way to let your inner comedian out.
54. Try fencing
It can be scary learning how to fence at first but it's really rewarding and the most amazing workout!
55. Start a YouTube channel
If you have a passion for video, starting a YouTube channel would be fun and rewarding.
56. Go on a cruise
Cruising is a great way to see the world without having to worry about hotels or transportation! You can always go back home whenever you feel tired of your surroundings.
57. Go to a car show
This hobby is especially fun with friends.
58. Learn how to cook your favorite meal
People love to eat and learning how to cook your favorite meal will make you everyone's favorite friend.
59. Go on a nature walk
Nature walks are calming and help us appreciate the beauty that we have around us all the time! Nature doesn't cost a thing.
60. Start a garden
Gardens look very beautiful and it's great to be able to grow your own produce at home!
61. Try virtual reality
Virtual reality is growing in popularity, so you might as well learn how to use it! It can be a pretty fun hobby.
62. Learn kayaking
Kayaking is really fun and can be a great way to go on an adventure!
63. Try 3D printing
3D Printing is becoming much more accessible and it's a lot of fun to learn how to use!
64. Go to an escape room
Escape rooms are great for those who love adventure and fun! It's a great way to build teamwork.
65. Get into darts
Darts is a lot of fun and it can be played with friends too!
66. Go paintballing
Paintballing is really fun and gets you active! And you can always play it with friends.
67. Go to a live music show
Live music shows are very fun and you get to be in the moment!
68. Try gold panning
Gold panning is really fun and you might just find some hidden treasures that'll make your day!
69. Charity work for an organization
Charity work is fun and rewarding. You get to help out people in need!
70. Try horseback riding
Horseback riding can be a lot of fun but you have to remember that it's not exactly easy! You have to learn how to ride the horse well, before you start doing anything else with them.
71. Learn a new instrument
Maybe the ukulele is right up your alley!
72. Learn how to juggle
Juggling is a very interesting hobby and it can help you relax as well! It's also great for those who have ADHD because it helps people focus better.
73. Try skydiving
Skydiving is very scary but it's also incredibly exhilarating! It's a lot of fun and such a rush. You can even do it as a couple!
74. Learn how to swim
Swimming is such an important skill that everyone should have. It teaches you self reliance and independence.
75. Try Brazilian Jiu Jitsu
Brazilian Jiu Jitsu is an amazing martial art that teaches you how to protect yourself and there's no other feeling like it!
76 Explore your local trails
Exploring nature is really fun and it will help you appreciate the beauty of the world. Starting a hiking group with friends could be very fun as well!
77. Go to the opera
Even if you don't like opera, go anyways because it's an experience that everyone should have at least once in their lifetime!
78. Learn how to salsa dance
Dancing is a great way to relieve stress and salsa is incredibly fun to learn! It's also very popular so you'll have no trouble finding people to dance with.
79. Try learning a new language
Learning a new language is hard but it's so rewarding! It will help you broaden your horizons and experience other cultures.
80. Try wood working
Woodworking is great because it lets you make fun little trinkets that you can decorate your room with! It can also be relaxing to make something with your own hands.
81. Try helping out at local events
Helping out at local events is a great way to give back to the community and it's very rewarding! You get to meet lots of interesting people as well.
82. Start indie game development
Indie game development is becoming more and more popular and it's very fun to do. You can even make money off of it or just do it for fun! There are endless possibilities with indie games.
83. Solve a Rubicks cube
Like magic tricks, you'll appreciate this one for the skill it takes!
84. Try Ballroom dancing
These might seem a little out there, but ballroom dancing is a fabulous skill to have. Try it out, even if it's out of your comfort zone!
85. Take Trapeze
Trapeze can be very fun because it challenges you in ways unlike anything else! It requires a lot of strength and technique.
86. Try Local Theater
Acting is a great hobby because you get to express yourself in different ways! You can make a career out of it as well if you're really good at it!
87. Learn how to solder electronics
Soldering is a very important skill that everyone should know as many electrical devices require soldering. It's also rewarding being able to fix broken devices!
88. Try deep sea fishing
Deep sea fishing is a very fun way to spend the day, especially if you love being around nature or are just looking for some peace and quiet.
89. Start roleplaying on an online forum
Roleplaying on forums is a lot of fun and a great way to express creativity. It can even help you meet new people from different parts of the world!
90. Learn how to forage for wild foods
Foraging is incredibly relaxing as well as being a great way to challenge yourself. It's also not very hard to learn! Finding your own food could be a lot of fun.
91. Play Soduku
Solving Soduku puzzles is very rewarding and fun! It will help you challenge your problem solving skills in unique ways.
92. Try astrophotography
A lot of people are interested in space right now so why not try astrophotography. It can be very beautiful capturing images of stars, the milky way or even meteor showers!
93. Try NANOWRIMO
National Novel Writing Month or NANAWRIMO for short is a good way to get out your creativity! Hire a writing coach to help you with your goals!
94. Try learning how to make charcuterie
Making charcuterie is a lot of fun and you get to eat all the delicious foods that you make! It's also a great way to meet new people as well as being very rewarding.
95. Try learning how to make beer
Making your own beer is a lot of fun and it's incredibly rewarding as you get to drink all the delicious beers that you make! It only requires a few things from home as well. You could also consider wine making!
96. Try brewing your own coffee at home
Brewing your own coffee at home is a great way to save money and it will make your morning routine a lot more entertaining!
97. Watch every episode of Star Trek
You've probably already watched some episodes but it's definitely worth watching all of them! You'll get to experience the different series' in their entirety which is an amazing feeling.
98. Try fashion design
Fashion design is a fun way to express your creativity and challenge your fashion sense. You can even turn it into a business if you get good enough! There are also lots of different types of designs that you can make as well.
99. Make a comic book
Making your own comic book is a good way to express yourself especially if you have an interest in drawing or writing. You can also make money off of it as well if you get good enough!
100. Try drawing everyday
Drawing everyday is fun because it will help you improve your skills as well as express yourself. It's also a great way to challenge yourself! You can even turn it into a game where you try and draw something everyday without ever repeating something.
I hope you enjoy this list of hobbies. Hobbies for men in their 30s can be really fun and rewarding—from learning a new skill to spending time with friends and family. Even if you already have hobbies, this list is sure to inspire at least one or two new ones!
Now get out there and enjoy your hobbies!