I am a big reader and I am a firm believer in being a life-long learner. I also use reading as a way to relax and unwind. I've compiled this list of 30 books to read in your 30s (some are from my personal list and some are crowdsourced!) so you can join me with hitting our reading goals for the year.
I read to my son every night before bed, and after he's asleep my husband and I usually spend time reading before we head to bed. Needless to say, books play a big part in my life!
Here is a list of classic favorites and newly published titles to help us as we go through this decade in life.
Related: The Ultimate Bucket List For Your 30s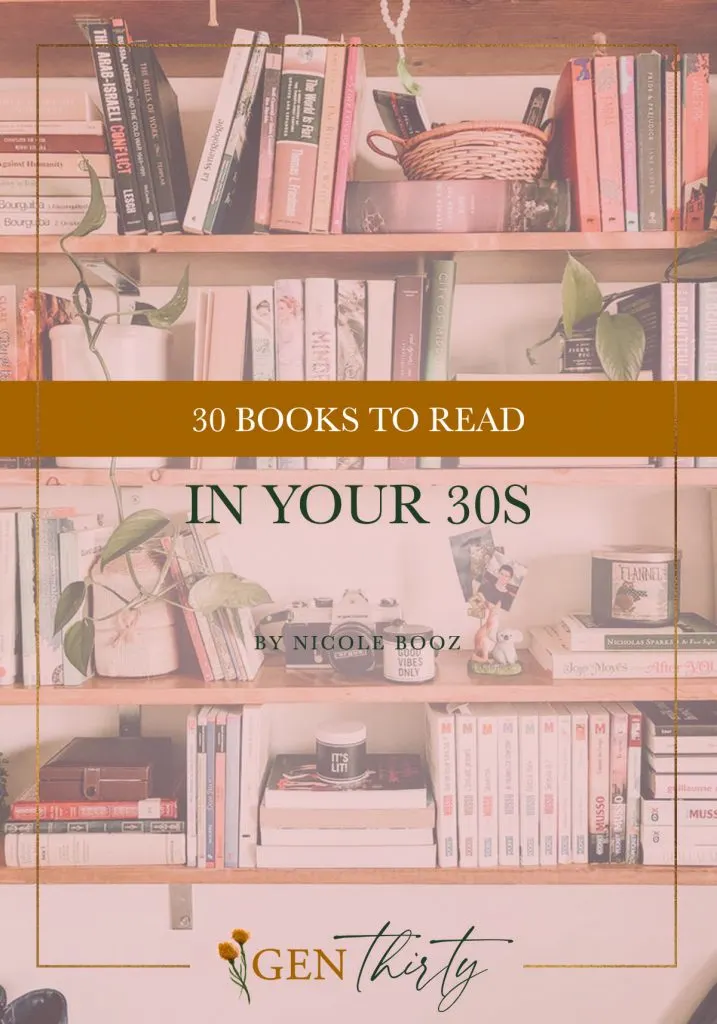 This post may contain affiliate links. GenThirty may make a small commission at no additional cost to you. Thank you for supporting this resource.
30 Books To Read In Your 30s
Part memoir and part self-help, Untamed is Glennon Doyle's latest gift to her readers. She focuses on self-empowerment, encouraging us all to stop listening to what others expect of us and trust the voices within us.
Jen Sincero shares her own unique perspective and hilarious anecdotes to help you uncover why you aren't making the money you want to be making, and help you unlock your earning potential.
What I love about this book is that it's a reminder that we are all the main characters in our own stories.
This is a Pulitzer prize-winning novel turned into Emmy award-winning Miniseries about 13 linked short stories all connected by one eccentric Olive Kitteridge.
These fictional vignettes about life capture the intense emotions and utter humanness of life, from relationships in small towns, between mothers and sons, surrounding neighbors, and among lovers.
Author Barbara Ehrenreich goes undercover as an unskilled worker to reveal the dark side of American prosperity—and what it looks like from the bottom, offering an often eye-opening perspective to her readers.
This is one a lot of people read in high school, but I think it's worth reading again. It's a very intelligent book.
Chanel Miller's memoir reveals her experience as Emily Doe, a once nameless victim of sexual assault. She is the writer of a Victim Impact Statement that went viral on Buzzfeed, after news of her assailant, Brock Turner, received a sentence of just six months in county jail for sexually assaulting her on Standford's campus.
Ms. Miller's voice captures the pain and isolation she and many survivors who came before her, and with this memoir she reclaims her identity and through sharing her trauma she transforms the way we think about sexual assault.
Related: 20 Inspirational Quotes For Your 30s
How to Kill a City by P. E. Moskowitz
Independent journalist Peter Moskowitz explores gentrification and how it affects us as a neighborhood, city and a people.
This nonfiction book uncovers the systemic forces behind gentrification in four major cities in the U.S and how gentrification leads to the heart of America's crises of race and inequality.
Author of beloved A Man Called Ove is back with this novel about the power of friendship, forgiveness, and hope—three things that give us strength, even during most anxious of times
Dr. Gary Chapman's long-time best-seller The Five Love Languages is a guide to understanding how you and your loved ones show and receive love, helping to improve communication and all relationships throughout your life.
As far as nonfiction books go, I think this is a must read. It also helps lead to a happy marriage to know your love language.
The real-life story of a 26-year old woman who treks the entire length of the Pacific Crest Trail—all on her own. Her more than a thousand mile journey leads her to self-discovery, growth, and healing through physical pain and mental pain.
The DNA of Henrietta Lacks, a poor Southern tobacco farmer working the same land as her enslaved ancestors, was used in scientific discoveries that aided the development of the Polio Vaccine and advancement in cancer research—all without her knowledge.
Her cells are still alive and in use today, making her the first immortal woman. Rebecca Skloot follows the path of the DNA to uncover the untold story of Henrietta Lacks.
Therapist Lori Gottlieb shares her experiences as a therapist who sees patients and her own therapist, and why talking to someone helps us examine the truths and fictions we tell ourselves and others.
In 2012, thirty-eight-year-old Writer Ariel Levy left for a reporting trip pregnant, married, and financially secure. A month later, she was none of those things. This memoir finds a way to be dark AND humorous, and shows that you can overcome dramatic loss and find yourself with reinvention at any age.
Bad Feminist is a collection of sharp, funny essays that look at the ways in which the culture we consume becomes who we are, and Roxane Gay sends out a call for us to try to do-and be- better.
Dr. Brené Brown challenges our beliefs about vulnerability and encourages her readers to embrace vulnerability as a strength, not a weakness.
Marie Kondo's detailed guide to letting go of items that clutter your home and your life helps us find the calm and serenity that comes with releasing what is not yours to keep.
First published in 1899, The Awakening shocked its readers with an honest and open portrayal about female marital infidelity, and now is known for its literary quality and decreed as an essential American novel.
This is Toni Morrison's debut novel and captures the fear and loneliness at the heart of a child's wanting, and then portrays what happens when the yearning is fulfilled.
One of Margaret Atwood's most famous titles, The Handmaid's Tale, first published in 1985 still resonates today as a dystopian novel about the dangerous effects of the patriarchal mindset.
From the writer who brought us the movies You've Got Mail, Sleepless in Seattle, and When Harry Met Sally, Nora Ephron's I Feel Bad About My Neck is another wonderful observation about life as a woman. It's a hilarious collection of thoughtful essays about aging and age, and a must-read as we prepare to enter new decades.
Mistakes I Made At Work edited by Jessica Bacal
This collection is made up of 25 interviews with influential women who share the learnings they had from the mistakes they've made in their career.
This collection of short stories shares glimpses into the everyday lives of simple moments in laundromats, moments of grace in halfway houses, and an honest portrayal of life in upper class Bay Area homes, hitchhikers, struggling mothers, and more.
Between the World and Me is Ta-Nehisi Coates's attempt to answer the questions of race and identity, racism and history, and how one might free himself from its burden in a letter to his adolescent son.
A beautiful love story, sudden, powerful, and forbidden. Aciman perfectly captures what it is like to be 17 and consumed by the love you feel for someone you cannot keep.
A guide to connecting to your inner child through play, perfect for single adults and adults with children and everyone in between. With 160 ideas for activities to help you reconnect with your childhood, this book is a perfect way to practice creativity, get inspired, and find new motivation.
Ferriss's guide shares his personal insight on leaving a $40K per year job with 80-hour weeks to making $40K per month with just 4 hours a week. He includes helpful step-by-step instructions for luxury lifestyle design.
A good follow up to this book would be The Tipping Point by Malcolm Gladwell.
This collection of poems is for women, by a woman who understands the beautiful and ugly sides of growing into your female-ness. These poems are to be read by mothers, daughters, single parents, and anyone who has dared to be different or to grow fearlessly.
A fictional yet honest portrayal of the lives of two opposite Los Angelenos, a wealthy do-gooder and an immigrant man barely scraping by, challenges our understanding of humanity and what is right.
James Clear offers a framework for habit formation with practical strategies that teach you exactly how to form good habits, how you can break bad ones, and ways you can master the tiny behaviors that will lead you to remarkable results for better success.
Option B combines Sheryl Sandberg's personal insights with expert Adam Grant's eye-opening research on finding strength in the face of adversity. She shares how resilience comes from within and that even after the most devastating events, it's possible to still grow and find joy.
This memoir by Nadia Owusu embraces her struggle with the lines of identity, the meaning of home, black womanhood, and the ripple effects of personal and generational emotional trauma. A must-read book released in January 2021!
And there we have it, the best books to read in your 30s! This list of books is insightful, heart-wrenching, and life-changing all in one. Make sure to check these out at your local library if you can!
What have you read in your 30s that has been life-changing? Let me know!
P.S. If you liked this post, you'll also like 65 Books To Read in Your 20s!