Here's a step-by-step guide to creating a capsule wardrobe for clothes for men in their 30s (plus the best brands to shop).
When a man hits his 30s, he's in the prime of his life — but finding clothes to reflect this can be tough. It's time to find your personal style that suits your body type and fits well – but where do you start?
The fashion industry is often geared towards younger generations, leaving men in their 30s stuck between looking too young and too old in what they wear.
But don't worry; there are plenty of timeless, stylish pieces that will help you look great and feel confident in your 30s.
My husband keeps a capsule wardrobe full of high-quality items he has tested over the years.
He knows which brands are worth investing in and have stood up to the test of wear for many years. He also knows which brands to skip, which pieces are worth investing in, why high quality basics make a difference, and when to tailor a piece of clothing.
In this article, with his advice, we'll discuss some of the best looks for men in their 30s so you can stay fashionable while embracing your age. Read on to learn more!
This post may contain affiliate links. GenThirty may make a small commission at no additional cost to you. Thank you for supporting this resource.
Table of Contents
The Importance Of Dressing Well In Your 30s
The importance of dressing well in your 30s cannot be overstated.
The right clothing can help you land that promotion, make a good impression on dates and generally present yourself as an upstanding professional.
To look your best in your 30s, focus on classic pieces with subtle modern touches that will keep you looking stylish and timeless.
When it comes to dressing for your 30s, it's important to remember that fashion is about expressing yourself.
That means you should look for pieces that make you feel comfortable and confident.
Start by investing in high-quality basics like slim-fit jeans, blazers, dress shirts, and neutral colored trousers. These items are timeless and will see you through every season.
Once you have these staples down, you can begin to add some fun accessories like patterned pocket squares, colorful ties, and cufflinks.
Remember to keep it subtle and tasteful — these items should be a reflection of your personality without going overboard.
The Challenges of Finding Clothes That Fit and Flatter
It's a little bit of a challenge for men in their 30s face is finding clothes that fit and flatter their body shape.
As men age, they often find that their bodies have changed, making it more difficult to find clothing that fits properly.
That's why it's important to invest in quality pieces made from natural materials like wool, cotton, and linen. These fabrics will move with your body instead of constricting it and will also be more comfortable to wear.
When shopping for clothes in your 30s, take the time to find well-made pieces that are tailored to fit you.
Mens Capsule Wardrobe: Clothing Recommendations for Men in Their 30s
A capsule wardrobe for a man in his 30s should consist of versatile and timeless pieces that can be mixed and matched to create a variety of outfits for different occasions.
Think of it as making your own personal dress code.
Here are some essential items that should be included:
A pair of dark wash jeans – a versatile piece that can be dressed up or down.
A pair of chinos or wool slacks – in khaki, navy or olive, these are perfect for casual or business-casual occasions.
A few basic t-shirts – white, black, and a couple of other neutral colors.
Graphic tees – if this fits into your style, a couple of graphic tees goes a long way.
A casual button-up shirt – in a plaid or check pattern. An oxford shirt is a classic cut for special occasions.
A lightweight sweater – for layering or wearing on its own.
A blazer – in a classic color like navy or grey, this can be dressed up or down for casual looks.
A pair of dress shoes – in black or brown leather, depending on your preference.
Sneakers – a pair of white or black sneakers that can be worn with casual outfits.
Outerwear – think classic styles like leather jackets, bomber jackets, or a trench coat.
A well-fitted suit – a navy or grey suit in a classic style that can be dressed up or down.
A few dress shirts – white, light blue, and a subtle patterned shirt.
These items can be mixed and matched to create a variety of outfits for different occasions, from work to weekend. It's important to invest in quality pieces that fit well and will last for years to come.
Having a capsule wardrobe means you can spend less time worrying about your clothing items and focus on things that matter to you like spending time with your best friend and family, your hobbies, and enjoying life!
15 Brands To Shop For Clothes For Men In Their 30s
Finding brands that fit you can be a challenge. Once you find a brand you really vibe with and the fits you well, it's a good idea to explore what you can from that brand.
Let some of these stores become your go-to brands for shopping for clothes. Build your wardrobe thoughtfully. Focus on what you wear the most first and then go from there.
These are some of the best places to buy clothes for men in their 30s.
Wool is one of the highest quality materials for clothing. It is a sustainable fabric and Wool&Prince shares their traceable supply chain for accountability in manufacturing.
They are great for plain t-shirts to fill out a man's wardrobe.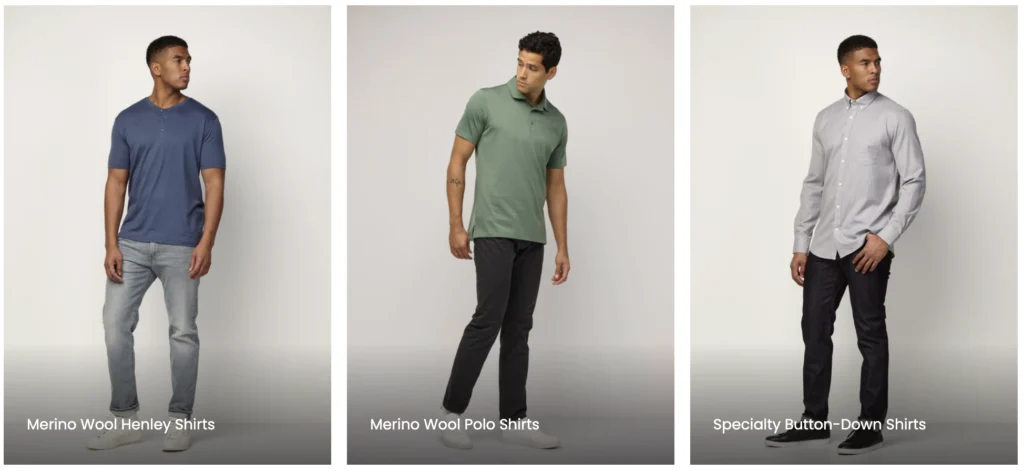 TenTree – Everyday Essentials
TenTree makes thoughtfully crafted and sustainably made men's hoodies, sweatshirts, sweatpants, t-shirts, sweaters, coats and pants.
For every item purchased, they plant ten trees. All of their products are made Earth-First: meaning they are made in fair, safe working conditions. Plus, they are constructed using only sustainably sourced and recycled materials.
Bonobos – Chinos and Casual Pants
Bonobos is known for their curved waistband and four-way stretch that leads to a more comfortable fit.
They are primarily made of cotton and spandex and available in a color to match any personality.
Every man should have a custom suit in his wardrobe. Whether for work or personal events, a well-fitting suit goes a long way in boosting your confidence. Trust me, it's worth the extra money to get a tailored fit.
You can get measured in store at any of their locations or submit your own online. They have a lot of great options for a business suit to match any personality.
Marine Layer – Vintage-Inspired Casual Wear
Marine Layer is a certified B-corporation – that is a business that is certified as a force
for good, and benefits the public.
Their men's collection has the casual perfect wardrobe staples for graphic tees, tee shirts, and board shorts – think easy weekend brunch and dog walking vibes.
Taylor Stitch – Textured Tops and Rugged Denim
Taylor Stitch offers the well-dressed man timeless staples built from environmentally-friendly fabrics like organic cotton that are constructed by responsible manufacturers.
Their essentials include the Slim Foundation Pant, The Slim Jean, Merino Wool Boxer, and The Ledge Shirt (a must-have, in my opinion). They have a lot of great thing
ForDays has a circular model of production – everything remains in use for as long as possible.They are creating a future where all products are recycled, reused, and regenerated.
They specialize in items for "work days, school days, and farmer's market days."
You can also get credit on the site when you buy a "take back bag" where they recycle your clothing that you can no longer wear.
Quince – Jackets, Cashmere, and Loungewear
Quince cuts out the middleman and makes luxury items and fabric like cashmere available to consumers at an accessible price point.
Their loungewear is ultra-cozy while still being chic and affordable. Don't miss out on their Traveler Pant – it's a must-have.
Quince provides a great way to try new styles for your overall look as a reasonable price point.
While not the most sustainable brand, Banana Republic offers a large range of clothing and sizes. They'll take you from your early morning workout to your morning meetings to date night.
Their fabrics are mainly cotton but they also offer luxury cashmere, linen, and merino wool options as well.
Patagonia – Basics, Outerwear, and Outdoor Gear
They have designed their men's clothing and outdoor to be durable for everyday use.
They have everything from lounge-worth t-shirts to outdoor specific jackets, to go-anywhere pants. And every piece of clothing they sell is backed by their guarantee.
Founded by two MIT students, Ministry of Supply is climate-neutral certified brand with a passion for making more comfortable dress shirts and socks from their favorite athletic gear.
Their Apollo shirt, for example, offers NASA-grade temperature regulation and a 19x more breathable than cotton pique knit combine to make the most comfortable polo on the planet.
Ted Baker offers investment pieces for men with style. Their outerwear should be a staple in your wardrobe.
Tie Bar – Work Wear and Wedding Wear
Specializing in wedding wear, the Tie Bar also offers a great range of work wear for the modern man.
Step up your selection of button downs, ranging from causal to ultra-sleek, at an affordable price – 3 for $150.
Nisolo – Men's Shoes and Accessories
You can't finish your wardrobe without shoes and accessories. Nisolo is an ethically-made shoe brand.
They have everything from boots to loafers to oxfords in a huge variety of styles and colors for men. Plus, they also have coordinating accessories like sunglass, hats, and bags to complete your look.
They have a great option no matter what your shoe needs are.
Here's $50 off your first Nisolo purchase.
Pact offers sustainable organic cotton style for men's basics. Think casual shirts, shorts, joggers, hoodies, and more.
They have neutral colors but also offer many bright colors and patterns as well to personalize your look.
5 Style Tips for Men in Their 30s
Style isn't just about looking good, it's also about feeling good. As you age and enter your thirties, the way you present yourself to the world changes- and so should your style.
But with ever changing trends in fashion, where do you start?
Don't fret – below are some simple tips tailored for men in their 30s to help them look stylish and feel comfortable at any event. Read on for more!
1. Invest in timeless pieces that will last for years – think quality over quantity
In a world where fast fashion seems to dominate, it can be tempting to constantly purchase trendy, low-quality clothing.
But investing in timeless pieces that will last for years is not only better for the environment, but it can also save you money in the long run.
Rather than constantly buying new clothes, focus on quality over quantity. Look for well-made pieces that fit your style and will stand the test of time.
Plus, investing in timeless pieces can elevate your wardrobe and give you a more polished, professional look.
So take the time to find those perfect, timeless pieces and enjoy them for years to come.
Update your wardrobe with classic colors like navy, grey and black
Looking to refresh your wardrobe without sacrificing timeless style? Look no further than classic colors like navy, grey, and black.
While trends may come and go, these hues remain a staple in the world of fashion for a reason.
Navy exudes sophistication and pairs well with patterns and brighter colors, while grey and black provide a sleek and versatile backdrop for any outfit.
Whether you're dressing for the office or a night out, incorporating these classic colors into your wardrobe will never go out of fashion.
So, why not elevate your style with a few key pieces in these perennially chic shades?
Go for slim fits to create a tailored look
When it comes to fashion, nothing beats a tailored look. And one way to achieve that is by opting for slim fits instead of things like baggy jeans and oversized t-shirts.
Not only will it make you look sleek and put-together, but it will also give you a more modern vibe.
Whether it's a slim fit suit, shirt or trousers, these pieces tend to hug your body in all the right places, creating a flattering silhouette.
Plus, they're versatile and can easily transition from day to night, making them a great addition to any wardrobe.
So, if you're looking to elevate your style game, don't shy away from slim fits – give them a try and see the difference for yourself! The most important thing is that you feel comfortable and confident in your clothing.
Mix and match different patterns for a unique style
Mixing and matching patterns can be a daunting task, but once you get the hang of it, it can elevate your style to a whole new level.
Whether you want to create a bold and vibrant look or a subtle and sophisticated one, playing with different patterns can help you achieve the desired effect.
The key is to make sure the patterns complement each other and are not too overwhelming. For instance, you can pair a floral top with striped pants or a polka dot skirt with a plaid shirt.
Don't be afraid to experiment with different combinations until you find the perfect one that expresses your style and personality.
Remember, fashion is about having fun and expressing yourself, so embrace the challenge and dare to be unique.
Take care of your clothes – wash gently, air-dry and fold or hang them up properly
Taking care of your clothes can prolong their lifespan and keep you looking sharp. One simple way to do this is by washing them gently.
By using a gentle cycle and mild detergent, you can prevent unnecessary wear and tear on your fabrics. After washing, air-drying is the way to go.
This will prevent any damage that might occur from a high-heat tumble dry. Once your clothes are dry, it's important to fold or hang them up properly to prevent wrinkles and creases.
So take a deep breath, relax and show your clothes some love by giving them proper care.
Accessorize with statement pieces such as watches, ties or pocket squares
When it comes to elevating your wardrobe, statement pieces are key. Watches, ties, and pocket squares are all great ways to add a pop of color or personality to any outfit.
A sleek watch can add a touch of sophistication to a tailored suit, while a bold patterned tie can spice up a traditional dress shirt.
And never underestimate the power of a pocket square – it's a small accessory that can make a big impact.
Whether you're dressing up for a wedding or just want to add some flair to your office wear, incorporating statement pieces into your wardrobe is a simple and stylish solution. So go ahead and accessorize – your outfit (and your confidence) will thank you.
In Summary: Clothes For Men in Their 30s
In conclusion, investing in stylish and timeless clothing can be a difficult task, but it doesn't have to be.
By taking the time to invest in quality pieces, you can create an everlasting wardrobe that will add sophistication to your style for years.
Keep it classic with navy, grey and black hues, then upgrade your looks with slim fits and accessories such as statement watches or pocket squares.
Make sure to take the proper steps to keep your clothes looking their best – wash gently, air-dry and fold or hang them up accordingly.
With these tips in mind, you're sure to look stylish no matter what the occasion!