Looking for the best baby bath seat for your baby, space, and budget? Here are the 7 best options available in 2023.
Trying to hold a squirmy baby while giving them a bath is both a challenge and a workout many new parents are nervous about! I was super nervous about my first son's first baths. By my second child, I felt we had it down.
When it comes to bath time for your baby, you want the best environment possible. And having the right equipment is essential in ensuring safety and comfort for your baby during their early bath times.
A great way to ensure your little one's comfort and security during bath time is by investing in a good quality baby bath seat. We've tried several different baby baths over the years so I'm sharing what the best baby bath seats on the market now are!
Why use a baby bath seat?
First things first, baby baths are designed to safely submerge your baby in bath water, while providing support and stability for them.
The seat should be positioned so that your baby's bottom is at the base and their legs are supported by the back of the seat and their arms can move freely.
This helps reduce splashing and slipping, making it easier for you to bathe your little one without worrying about them slipping or getting hurt.
You might also want to use a baby bath tub if you are bathing your newborn or infant along with an older toddler. It keeps your baby safe and contained. But remember you still need to keep a close eye on them both!
Always, always, always keep your eyes on your baby when they are in the tub and around water.
Here is a preview of my top picks for baby bath seats:
What to look for in a baby bath seat:
When it comes to buying a baby bath seat, you should always look for one that is made from sturdy and durable materials.
It should also feature non-slip surfaces with adjustable straps or buckles to keep your baby securely in place.
Additionally, the seat should be easy to clean and have a comfortable design that will encourage your baby to stay still while being bathed.
With the right baby bath seat, you can give your little one a safe and enjoyable bath experience every time.
It will also ensure that they are supported securely throughout the process, giving you peace of mind and making bath time fun for everyone!
This post may contain affiliate links. GenThirty may make a small commission at no additional cost to you. Thank you for supporting this resource.
Know Before Purchasing: Safety Standards For Your Baby Bath Seat
It's important to make sure that the baby bath seat you choose meets safety standards.
A baby tub and infant tub are not safety devices while your baby is in the water. Do not allow them to give you a false sense of security.
You should always be right on the side of the tub watching your baby closely during bath time.
Unsafe baby bath seats can put your baby at risk of drowning or injury, so never buy a product without first checking that it has the appropriate safety certifications.
U.S. Consumer Product Safety Commission's (CPSC) infant bath seat safety standards requires strong suction cups on the bottom of the seat and appropriately sized leg openings.
Look for the ASTM F1967-19 standard safety label before purchasing to ensure the seat you pick meets current safety standards.
The best baby bathtubs are designed to be used for toddler age and under and can't take a high load. Keep that in mind when purchasing!
7 Best Baby Bath Seat Picks
Top Pick
Summer My Bath Seat
This Summer Infant bath seat has secure suction cups, a backrest, and appropriately sized leg holes. It is easy to set up, store, and clean post-bath. Keep in mind, it fits tubs between 21" and 24" wide.
Buy Now
The bath seat from Summer Infant features three connection points to keep baby upright in the tub. It has 11.7k five star reviews on Amazon.
It offers the most support and stability of any bath seat on the market today.
This seat also comes in four colors (grey, blue, teal, and pink). It is recommended for ages 5-10 months. Make sure you check baby's age and developmental abilities before purchasing.
I personally like that it has front guards to keep it from tipping over and sturdy arms to keep it in place.
The main complaint is that it might not work in all tubs, especially if your tub has a rounded shape, like an oval. Be sure to double check the measurements before ordering!
Most Longevity
This tub has adjustable positions so that it can be used from ages newborn until your about 2 years old when your toddler will likely outgrow it. This seat holds up to 50lbs and is designed to be use in the tub.
This particular seat is not just a seat but also a tub that you can fill with water. It's a great 4-in-1 option that many parents love.
Best For Small Tubs
Baby Bathtub Seat
If you have a small tub or need to bath your baby in the sink, consider this option.
This baby bath chair has suction cups on the bottom and a 360 degree wrap around back rest for comfort and security.
This particular set also comes with some extras like baby bath toys, disposable baby diaper bags, a hangable garbage bag storage box, and more. These are a free gift with purcahse.
Reviews warn that the seat has no no stick grip so while your baby is supported, they aren't necessarily secure from sliding around in the seat so just be mindful of that.
The listing also notes that they will soon be upgrading this chair so make sure you double check before purchasing.
This brand says this seat works for babies 6m+ but I personally think it's best once your baby can sit securely on their own as there is no sidebars to support them.
If you're baby is sitting comfortably and crawling around 9-12m, I personally think this is the best developmental range for this type of seat. But of course use your own judgement.
This is seat is unique because it has a non-slip seat and forward handle for baby to hold onto while seated comfortably in the water.
Reviews report that it is lightweight but sturdy, easy to store, and great for having room to move around while still securing baby.
Budget Pick
Summer Clean Rinse Baby Bather
Coming in 3 colors, this tub allows you to bathe your baby on the counter, in the sink, or in the bathtub. It is for use from birth to up to 20lbs (13lbs on the counter).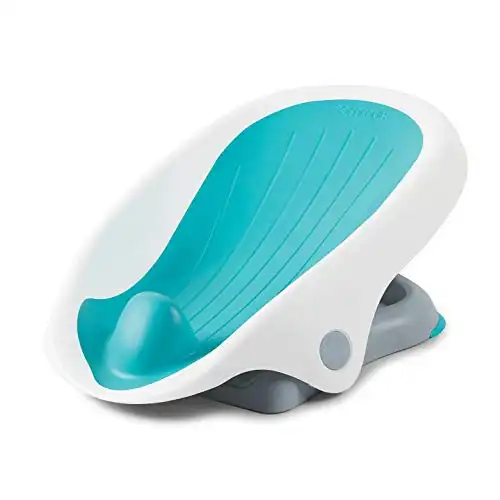 This baby bath is top-rated and for a good reason. It's very versatile, especially for the price point!
It has an adjustable recline, is easy to clean, and can be used in three different places (sink, bath, and counter) for easy bathing.
You baby can use this tub until they can sit up unassisted.
Whale Baby Bath Tub
This non-slip baby bath seat has 4 suction cups for stability and comes with some toys and extras. It's rated for ages 6-36 months.
This whale shaped baby bath makes bath time extra fun for your little one!
You can start using it at 6 months of age. This model has a thick backrest for support, is 5cm from the base of the bathtub, and has air venting in the non-slip seat for comfort.
Reviews report that your baby needs to be able to sit solidly before using this tub. Other parents have also reported that as your child gets bigger, the suction cups might not hold securely if your child leans forward too far.
It is quite sizable and not easily stored so keep that in mind if you don't have a lot of room.
BEABA by Shnuggle Baby Bath Tub
This tub has a unique design and has an inner bump for security. It comes with a drain and is great for babies with colic or reflux. Can be used up to 12 months.
This compact baby bath is ideal for smaller babies. It has non-slip grips on the bottom of the tub as a safety feature.
It's designed for comfort with a high backrest, a foam pad, and bump in the bottom to keep baby upright.
It uses 2 liters of water – and when full, only weights 7.3lbs. It's easy to empty and easy to use if you have a small space.
Some reviewers also suggest using it as a chair without water. It also works great in both a tub or the kitchen sink. It's rated 4.7 out of 5 stars on Amazon.
Final Thoughts: Best Baby Bath Seat
As far as infant bath seats go, you have a lot of options these days. For a new baby bath seat, you'll want to make sure it doesn't have smaller leg openings, has suction cups, and is secure for safety.
Bath time is great time to connect with your child (both during the newborn stage and as older babies). So you'll really want to make sure your baby is comfortable. The regular tub is often too large for babies at this age so a baby bath is great option for enjoying bath time!
If you travel a lot with your baby, you might consider an inflatable baby bathtub.
If you only plan to use this while your child is an infant, we also liked the angelcare baby bath support. It's a good, budget-friendly option for an infant bathtub but your baby can only use it for up to 6 months of age.
Enjoy your sweet little one and bath time! It goes by too fast.