Putting your baby in a sleep sack for overnight sleep is a way to make sure your baby stays warm while adhering to safe sleep guidelines! Click here to jump down to the list.
In hindsight, I took my oldest out of a sleep sack far too soon.
My youngest is still in a sleep sack at 20 months and I have no plan to stop using one!
I had to hunt for quality sleep sacks for toddlers, though, so I wanted to make a guide to make it easier to find the best one for you and your family.
This post may contain affiliate links. GenThirty may make a small commission at no additional cost to you. Thank you for supporting this resource.
What is a sleep sack?
Think a sleeping bag for babies.
Also called wearable blankets or sleep bags, sleep sacks are adorable little sleeping bags for babies and toddlers that are designed to keep them warm while they sleep.
A traditional sleep sack is a zippered (or snapped) sack that goes around your baby's body on top of their pajamas.
Their head is always out of of the sleep sack. Some sleep sacks offer an arms-in option. Others have sleeves and leg holes.
According to the American Academy of Pediatrics (AAP), they are a much safer alternative to blankets when it comes to ensuring your toddler is safe as they sleep and reduce the risk of SIDS (sudden infant death syndrome).
If you have been thinking about getting your toddler a sleep sack, you probably already know just how much variety is available in the market today.
There are footed ones, newborn-friendly ones, ones made using wool, fleece, or cotton, and more. The list is endless.
Unfortunately, having so many options to choose from often results in choice paralysis for many parents.
If this is the dilemma you have been dealing with, you have come to the right place! Here is a look at some of the best toddler sleep sacks on the market now!
Why use a sleep sack for toddlers?
Sleep sacks are a helpful tool for many parents.
They offer a safe way to put little ones to bed while sticking to the American Academy of Pediatrics's safe sleep guidelines without blankets. They will keep your toddler warm at night without the need for loose blankets.
Sleep sacks help ensure a smooth transition from swaddling in younger babies. You can keep using them right into toddlerhood to provide a safe sleeping environment for your child.
Keep using them until your toddler becomes too big for their sleep sack, which would mean it is time to transition to a big kid's blanket.
Are sleep sacks safe for toddlers?
Yes, sleep sacks are completely safe for toddlers!
As long as the sleep sack fits your little one correctly, they can keep using it for as long as they want. You'll want to check the size guide of the brand you purcahse to make sure you are getting the right size.
Kids love the security that comes with wearing a sleep sack. That's why developmentally speaking, they will never quite age out of wearing them.
For this reason, you can keep using sleep sacks for as long as you can find ones that fit your child. Once your babe becomes too big for their favorite sleep sack, you can then transition to a regular blanket.
If you are considering transitioning from sleep sacks, be sure to consult the AAP's safe sleep guidelines and ensure that you keep all bedding and blankets out of the crib until your child is at least 12 months old.
A sleep sack is a great way to bridge the gap after their first birthday until they can use a blanket in their crib.
At the end of the day, there really is no rush to stop using sleep sacks if your little one is not ready. In fact, you can upgrade to larger sizes now that more and more brands are making extra-large sleep sacks.
Here are a few more reasons why sleep sacks are great for toddlers:
An extra layer of warmth: When toddlers first start using blankets, they tend to kick them off in the middle of the night. Sleep sacks take care of this problem by staying put all night and guaranteeing that your little one will always be covered no matter how much she kicks!
They feel secure enough to sleep longer: Because sleep sacks keep toddlers covered all night, it makes them more likely to stay asleep for longer. If you have been trying to figure out how to make your kiddo sleep through the night, a sleep sack might just do the trick.
Helps prevent them from climbing out of the crib: Has your little one started becoming more and more adventurous by the day? Has she started experimenting with climbing out of the crib on their own? Well, a sleep sack will prevent this by ensuring your toddler stays in the crib all night. Their legs will be enclosed throughout the night, which makes it harder to climb up over the side of the crib.
A comforting part of the bed time routine: Sleep sacks can also help reinforce your toddler's bedtime routine. When your kiddo puts it on, it acts as a cue that it is time to sleep. The result? You'll have fewer bedtime tantrums to deal with!
What to know about sleep sacks:
Before you buy a sleep sack, here are some of the most important things to consider:
TOG levels
TOG stands for thermal overall grade.
TOG is a measurement standard that is used to determine season-appropriate sleep sacks. It defines the thickness and the amount of warmth that the sleep sack offers your child as she wears it.
Depending on the season, you will need different weights to ensure your toddler is comfortable at night and early in the morning.
The lower the TOG level, the thinner the fabric. Lower TOG levels are used in warmer weather whereas higher TOG levels are used in cooler weather.
You pick your TOG level based on your child's room temperature.
Materials
Next up is the type of material used. Consider going for organic cotton or bamboo viscose whenever possible as these materials are more sustainable.
Also, ensure that you get it in the correct weight to prevent your little one from sweating at night. If she sweats, adjust the clothing she has on underneath or get it in a lighter weight.
Certifications
To ensure your sleep sack is made with quality materials, confirm that the brand has the relevant industry certifications.
For example, the OKEO-TEX certification confirms that the sleep sack has been tested for 100 harmful substances, including lead, nickel, and phthalates, guaranteeing that the sleep sack is completely non-toxic and baby-safe.
You also want to look for GOTS certified cotton when cotton is being used as a material.
Zippers
I love zippers that start at the top and go to the bottom to close because they make it harder for toddlers to open them up themselves in the middle of the night.
Once your toddler can unzip their sleep sack and take it off, it becomes a tripping hazard and even a suffocation risk.
That said, sleep sacks come with lots of different types of closures, including zippers, sleeves, snaps, and more.
I do not personally like snaps because when you have a toddler and she stands while in the sleep sack, the poppers will easily snap open, releasing them. This can also be a potential crib risk because of the loose fabric.
Keep in mind that ones that zip up from the bottom make for easy diaper changes.
Hands in or hands out
You also have the option of getting a sleeveless or sleeved sleep sack.
Some versions are also completely without sleeves and are designed to lock the hands in, although I would not recommend these for toddlers.
I like using a sleeveless sleep sack with a long-sleeved pajama top.
This creates the right balance of warmth and comfort. It also gives my toddler some autonomy over his comfort, because most toddlers prefer their hands out at this age.
Putting your baby to sleep in long sleeves helps keep them warm at night.
The 10 Best Toddler Sleep Sacks (2023)
Price: $65
Materials: Bamboo
Suggested Weight Range: 18-30lbs, 28-42lbs, 38-50lbs
Suggested Height Range: 26-33in, 33-40in, 37-47in
Kyte Baby Sleep Bag is a uniquely designed toddler sleep sack with leg holes for easy movement. This makes it a great choice for mobile toddlers who have started walking.
You'll also love that it comes in different warmth/TOG ratings, including 0.5, 1, and 2.5.
Kyte Baby Sleep Bag Walkers are made entirely using soft bamboo material, which makes them extra soft and super cozy for your little one to sleep in.
They are also available in multiple sizes all the way up to 4T, which means you can count on your toddler growing with this sleep sack.
Price: $55
Materials: Bamboo
Suggested Weight Range: 7-13lbs, 14-20lbs, 18-30lbs, 28-42lbs
Suggested Height Range: 20-25in, 22-27in, 26-33in, 33-40in
I love the Kyte Baby Sleep Bag because it is made using super breathable ethically sourced bamboo, which makes it kind and gentle on both your little one's delicate skin and the planet!
You'll love how soft and comfortable it is as well as all the gorgeous color choices it comes in.
However, keep in mind that this sleep sack runs a little narrow compared to the others on this list.
Price: $29.99
Materials: 100% cotton
Suggested Weight Range: 22-29lbs, 27-33lbs, 31-41lbs
Suggested Height Range: 29-34in, 34-38in, 38-45in
HALO Toddler Sleep Sacks are great because they are designed to be super easy to put on and take off. They are also very affordable, which makes them the perfect choice if you are on a tight budget.
These sleep sacks are made using the softest, most comfortable cotton and are available in many color options.
Halo sleep sacks for big kids are available in two sizes: 2T/3T and 4T/5T.
They also come with leg holes for your mobile toddler's legs, as well as an inverted zipper that your little one can operate when she needs to take a trip to the bathroom in the middle of the night.
The halo sleep sack was one of my favorites for when my son was under 18 months in the summertime.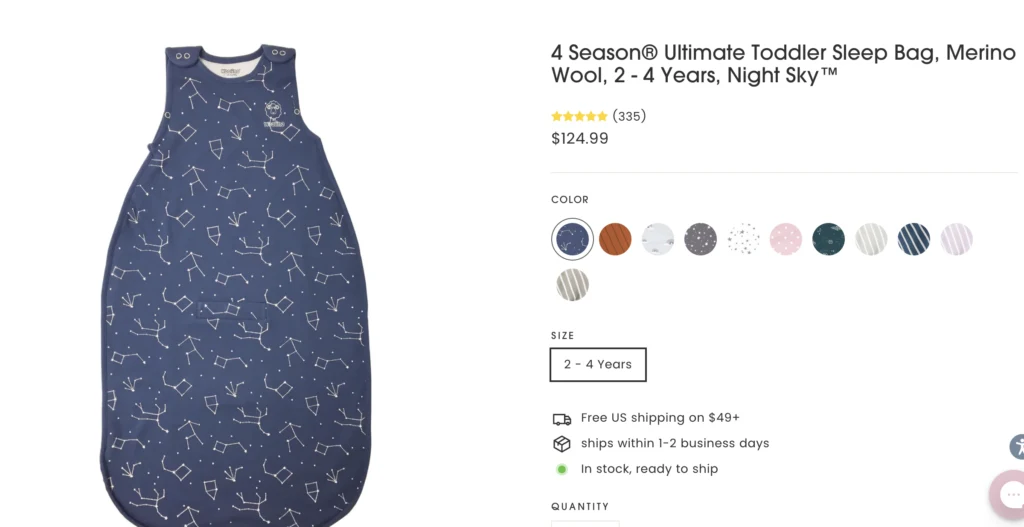 Price: $124.99
Materials: Cotton, Wool
Suggested Weight Range: 26-42lbs
Suggested Height Range: 34-42in
Woolino 4 Season Sleep Bags are a great choice if you need something that your toddler can use all year.
Designed to be warm in winter and cool in summer, this sleep sack will naturally regulate your little one's body temperature.
Made of merino wool, these sleep bags are machine washable and available in an adjustable universal size that can be used throughout the toddler years!
It is durable, versatile, and while not the cheapest option on this list, completely worth it because you'll be getting a sleep sack that can be used all year for several years.
Woolino is great option for all year round, including the summer months and winter months. It allows easy access for diaper changes and is made of high quality materials.
This is the most expensive sleep sack on this list but is best for all different seasons and comes in a variety of sizes.
Price: $69.60
Materials: Cotton, Bamboo
Suggested Weight Range: 16-29lbs, 26+ lbs
Suggested Height Range: 27-37in, 37-41in
I love the MORI Toddler Sleep Sack because it is front-opening and designed for all-year-round comfort.
Made using organic cotton and bamboo fabric combo, it is so soft to the touch and kind and gentle on the most delicate skin.
The zip at the front can be concealed, and it is also openable from the bottom.
Their size 2-4Y is perfect for toddlers because it will grow with them!
Price: $38.85
Materials: Cotton, Cotton blend
Suggested Weight Range: 10-28lbs
Suggested Height Range: 22-44in
Baby in a Bag is a brand that makes cozy sleep sacks. They are available in a wide range of sizes from 3 months to 3 years.
These sleep sacks come with a soft polyester filling for extra warmth. If you have been looking for the perfect sleep sack for the coldest times of the year, this is it!
Price: $39.99
Materials: Cotton
Suggested Weight Range: 26-42lbs
Suggested Height Range: 34-42in
Ecolino Cotton Organic Sleep Sacks are made using 100% GOTS-certified organic cotton.
They are available in 3 sizes including 0-6months, 6-18 months, and 18-36 months.
The fabric used is so soft and gentle on your toddler's sensitive skin.
This sleep sack also has a two-way zipper that opens up from both the top and the bottom, which makes putting it on and taking it off super easy.
It will keep your baby cozy all night long.
Keababies – Best For Warm Climates
Price: $15.96
Materials: Cotton
Suggested Weight Range: 6-17lbs, 15-26lbs, 26-35lbs
Suggested Height Range: 25.5-40in
Keababies sleep sacks are ergonomically designed to promote safe sleeping in babies and toddlers. They are super snug to help your little one sleep for longer.
If you are currently sleep-training your toddler and have been looking for a way to help them learn to self-soothe and sleep through the night, this might be exactly what you need!
Easy to put on and take off, this sleep sack is available at 0.5 TOG, making it a lightweight, breathable sleep sack that will serve you well for all seasons!
Price: $27.99
Materials: Cotton
Suggested Weight Range: 10-18lbs, 16-24lbs, 22-28lbs, 26-36lbs
Suggested Height Range: 23-26in, 26-30in, 30-35in, 35-40in
Mama Cheetah sleep sacks stand out because they are lightweight, breathable, super soft, and available in beautiful designs that your little one will absolutely love!
They have a 0.5 TOG rating, making them a great choice for warmer nights.
They also come with a durable 2-way zipper that can unzip from both the top and the bottom for your and your toddler's convenience.
You'll also love how generously sized these sleep sacks are!
Price: $58
Materials: Rayon
Suggested Weight Range: 26-42lbs
Suggested Height Range: 34-42in
The günamüna Unisex Baby, Toddler Wearable Blanket is ergonomically designed to be comfortable and super easy to put on and take off.
At 2.6 TOG, it is so soft and fluffy; your toddler will feel like she's being cuddled as she sleeps!
It is also evenly weighted and designed to be wider and longer so your toddler and move around and kick as much as she wants inside it.
This sleep sack is also OKEO-TEX certified, which means it is free of toxins, irritants, and harmful chemicals, making it the perfect choice for your toddler's delicate skin!
Final Thoughts On The Best Toddler Sleep Sacks
So there you have it; our list of some of the best toddler sleep sacks that you can buy right now.
Finding the right sleep sack can be a challenge but in my opinion a sleep sack is a good idea to put your baby to sleep in.
Hopefully, now that you have this list, narrowing it down to the perfect choice for you and your little one will be a bit easier. Good luck!