Looking for the best baby carrier for travel? Here are 9 picks based on your baby's weight and your travel destination!
When traveling with your baby, it's so nice to use a baby carrier because you can be hands-free as you navigate security, the airport, and the plane! Plus, it's also super nice to have a carrier once you get to your destination so you can continue to wear them and be hands-free.
If your baby is younger or if you have more than one child, they can also be helpful because then you don't have to travel with a stroller. I took many trips when my son was under 1 with just a baby carrier. It's a lifesaver!
There are several different types of carriers and you might want to consider each of them for a different reason. It could depend on your personal preferences of how you want to carry them, if you'll nurse in the carrier, if more than one person will be wearing your baby in the same carrier, comfort level, and more.
A pro-tip is to make sure you get comfortable with the carrier before you travel anywhere. You don't want to be setting it up the day you head to the airport. Use is at least a few times so you can get through the learning curve ahead of time.
This post is going to cover the best 15 baby carriers for travel, plus their pros, cons, and things to keep in mind.
Types of Carriers
Here is a breakdown of all of the different types of baby carriers available on the market. They are all similar but do have differences!
The Standard Carrier:
Your typical carrier is very comfortable, supportive, and offers multiple positions to carry your baby. There are usually buckles and snaps with additional hip, back, and shoulder padding.
These carriers hold your baby in an upright position, whether forward facing or in the back carry position. While most can hold your baby starting as a newborn, you'll want to take extra care to follow the instructions until they are above a certain weight.
A Wrap:
A wrap is just that – a longer piece of fabric that is tied around your body different ways to keep your baby close. These are are great for the newborn stage and offer a lot of support for both you and your baby.
Keep in mind that babies can only be worn forward facing in wraps. They also don't offer as much support on the wearers' body as a standard carrier does.
Ring Slings/Slings:
A sing is similar to a wrap. It's a single piece of fabric that goes over one shoulder and secures your baby close to your body. They are preferred by some people especially when nursing and baby wearing.
You might find a ring sling or a wrap more comfortable for wearing your baby on the plane.
With ring slings, babies can only be worn in the front carry position.
Mei Tai:
Also known as a Meh Dai, a Mei Tai carrier is similar to a standard carrier, but typically has a more intricate design. It can be adjusted to fit different carrying positions.
Mei teis can be worn facing in or out and usually have multiple straps that go over both shoulders.
This post may contain affiliate links. GenThirty may make a small commission at no additional cost to you. Thank you for supporting this resource.
9 Best Baby Carriers For Travel
Now that we have gone over the different types of carriers, here are 15 carrier options for travel.
Solly Baby: The Wrap and The Carrier – Best For Smaller Babies
Solly Baby is a beloved wrap brand that is handy for traveling for a small baby. It's made with 100% Lenzing modal and is designed for the ultimate comfort.
It has a built-in weight distribution system that helps spread your baby's weight evenly. This can be handy if you plan to wear your baby during the flight.
They have two options available based on your baby's weight:
The Wrap is for babies 8-25 lbs.
The Carrier is designed for babies 15-45 lbs.
Both wraps are a stretchy material made of breathable fabric. Their carriers are made from sustainably sourced 100% certified TENCEL™ modal. It is sourced from the pulp of Austrian Beechwood trees and is biodegradable. Their carriers are sewn in Los Angeles!
Best For: I'd recommend these if you plan to primarily wear your baby on the plane and through the airport. If you plan to keep your baby in their carseat on the flight or get them their own seat and use your carrier at your destination, I'd go a different route.
Boba Wrap: Classic and Serenity – Great for Nursing
These two options from Boba Wrap are great options for traveling.
These wraps are made from a stretchy material that allows you to easily adjust it to fit your body. Similar to the Solly Baby wraps, they are designed to evenly distribute your baby's weight as you wear your little one.
The Classic Wrap is made from 95% Cotton, 5% Spandex. The Serenity Wrap is made from 68% Viscose from Bamboo, 25% Cotton, 7% Spandex.
Boba wraps have alterable waistbands and extenders if needed! Which is great for us mid-size and plus-size mamas who might need them!
The Boba Wraps have an ergonomic design and Certified Hip Healthy by the International Hip Dysplasia Institute.
They are also extremely breastfeeding-friendly! All you have to do is scoot the baby down to your breast.
Good To Know: The Boba X, 4Gs and Air carriers all have a special breastfeeding access buckle. These carriers can go up through preschool age so they have a lot of longevity!
Best For: Seriously consider the Boba as an option if you plan to breastfeed on the flight and at your destination. They are highly rated for feeding while wearing! Otherwise, pick between which design you like better between the Boba and Solly Baby.
Ergobaby Aerloom – Top Pick
This carrier ticks a lot of boxes: comfortable, practical, and supportive. Plus, it looks good too!
This carriers is made from post-consumer recycled polyester. The knit is 87% Recycled Polyester (GRS-Certified) and 13% Nylon. Additionally, the body of the carrier and the waist belt lining are 100% cotton (OEKO-TEX Standard 100 certified).
It's made for the ultimate comfort and flexibility with its ultra-lightweight design and built-in airflow mesh constructed from FormaKnit™ fabric.
This carrier is machine washable which is great for messes. It holds up to 35lbs so it can be used for quite a while as your baby grows. This is one of the tops structured baby carriers out there.
Additionally, the Aerloom baby carrier can be adjusted to three different carry methods for your little one:
Front Carry Inward Facing (in Newborn Mode and Baby mode)
Front Carry Outward Facing (in Baby Mode)
Back Carry (in Baby Mode)
Best For: This is a top pick in my opinion. It's made of great materials and can be worn many different ways. It's also easy to change the size if more than one person will be wearing your baby. It's a great choice for new babies and older babies alike. The fabric also makes it a good choice for warm climates.
Boppy Comfyfit – Best Hybrid Wrap/Carrier
This is a great carrier for on the go as it is a wrap/carrier hybrid that offers decent support but its soft like a wrap.
This one is essentially a wrap and carrier in one. It's really easy to put on yourself and adjust your baby. It clips around the waist, then goes over the shoulders, and ties back in front.
It is made of 88% Polyester 12% Spandex (Outer Fabric) and 100% Polyester Spacer Mesh (Inner Material). It's not the softest available but not the roughest either.
What's nice about this carrier is that it can be used from 0 months to 3 years of age.
It is also easy to travel with because you clip it on and then tie the wrap around your waist when you're not wearing your baby.
It offers three carry positions:
newborn front face-in (legs in frog position)
baby front face-in (legs out)
front face-out
It also features an adjustable waist belt: 29-54 inches which makes it a good option that fits a range of sizes. This is a great soft structured carrier for many body types.
Tula (Free-to-Grow)
Tula is a highly respected carrier brand with a wide variety of carrier options. They cover newborns through preschool age. Their carriers are supportive at both the waist and the shoulders.
Their carriers include:
Explore Forward Facing Adjustable Carriers (7-45 lbs)
Free-to-Grow Newborn to Toddler Baby Carriers (7-45lbs)
Tula Lite Compact Travel Carrier (12-30 lbs)
Toddler Carriers (25-60 lbs)
Preschool Carriers (35-70 lbs)
Signature Woven Baby Carriers
Ring Slings
The Free-to-Grow includes padded, adjustable shoulder straps and a wide, padded waistband to reduce the strain of carrying the baby on your neck, shoulders and back. Their infant carrier is designed to physically support both you and your baby.
The Free-to-Grow Carrier is designed with a small footprint, lightweight materials, and a simple yet strong design that will keep you and your newborn baby cool all year long and for years to come. This carrier can be used from 7-45 pounds and no infant insert is necessary.
Lillebaby All Seasons
If you're looking for an adjustable, comfy carrier that may be used all year, the Lillebaby All Seasons is a great alternative.
This carrier has 6 carrying configurations, lumbar support, and a zip-down front panel making nursing simple. The All Seasons also includes an infant insert for babies weighing 7-15 pounds.
It is a sturdy, adjustable, and versatile carrier that will last you for many years to come.
This carrier also has a slim zippered pocket that can hold your phone, keys, and money for hands-free adventures.
It's also adjustable so other caregivers can wear it too. It has two-way adjustable straps, an extendable back panel, lumbar support, and an adaptable seat creating near limitless options for an ergonomic fit. It also has adjustable head support.
It's a good pick for warmer climates too. This is a good one for back carry positions especially if you don't want to invest in backpack carriers.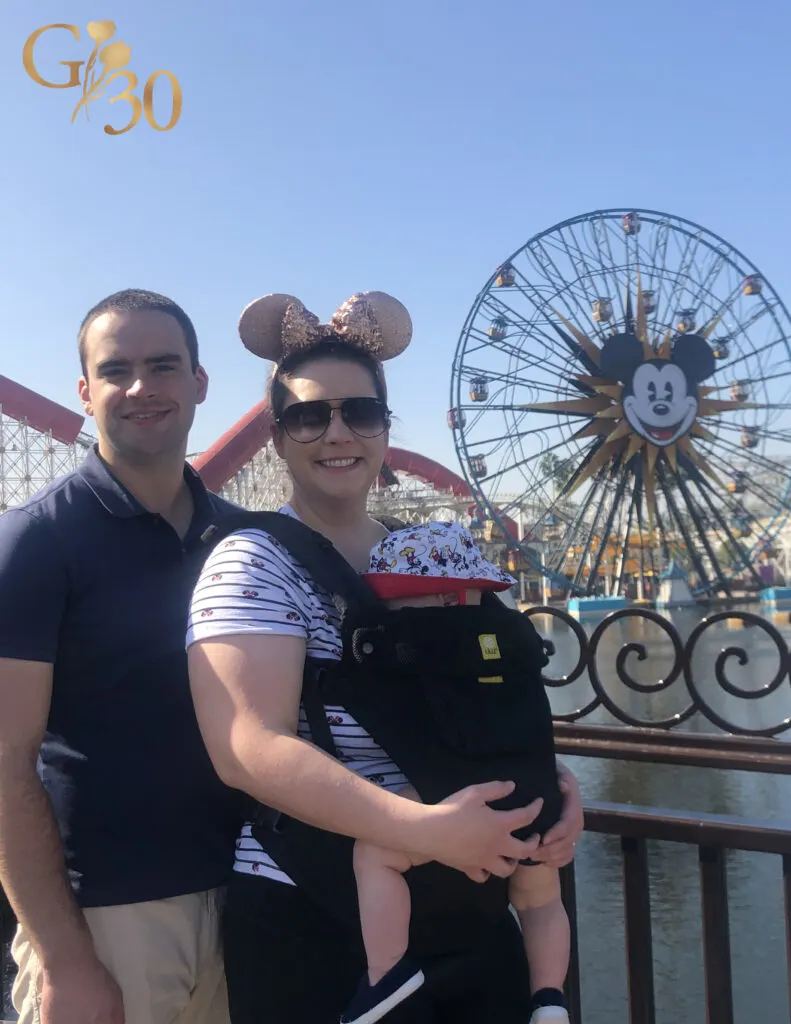 Best For: This is a top travel pick for me. I've travelled with it many times (and will be again soon). It's very supportive. I would not recommend wearing your baby on the plane in this though as it is not very flexible to be comfortable sitting down.
Ergobaby OMNI 360 – Awarded Best Baby Carrier
Another great pick, this all-in-one, newborn-ready Omni 360 has all the carry positions. The Omni 360 is wonderful because it grows with you from week 1 to 48 months. For that reason, it's cited as being a best toddler carrier on the market.
It has crossable shoulder straps that give a personalized fit for each user. It's easy to swap between users as well.
Additionally, it provides lumbar support for extra back comfort, has a detachable storage pouch, and is made of Oeko-Tex Standard 100 Certified Fabric.
The Ergo OMNI 360 is machine washable and offers four carry modes. You can wear your baby front facing in, front facing out, hip carry, and back carry. It typically fits parents through size XL.
Baby K'Tan Organic Baby Carrier
The baby k'tan is a babywearing favorite, especially for those who don't have experience babywearing yet. It is a baby wrap carrier that offers support and stretch. If you plan to wear your baby while traveling and are newer to baby wearing, this can be a good pick for you.
The Baby K'Tan comes in six different styles (original, organic, breeze, active yoga, prints, and active oasis). They all have slight variations but are the same standard design.
The Baby K'Tan allows you to hold your baby in 5 different positions. The weight range of all Baby K'Tan carriers is 8-35 lbs.
It's very soft, comfortable, and flexible. I would pick the Organic version personally. The Baby K'tan Organic Cotton Baby Carriers are constructed of a 100 percent GOTS certified organic cotton that has one-way stretch.
Lalabu Kerier® – Best For Simply Carrying
The Lalabu Kerier® is similar to the Boppy Comfyfit the way it's worn.
It is beautiful, comfortable, and makes easy-to-use babywearing accessible for everyone. The Kerier® keeps your baby close to you while also making it very easy to nurse in, which might be handy if you are breastfeeding on your journey.
It clips at the waist, you put your arms through the straps, put your baby in, and tie the straps around you for the perfect fit. The Kerier® is designed for babies aged 4 months to 2 years ranging from 13 to 28lbs.
What to look for in a carrier for traveling:
If you're picking the best baby carrier for travel, you'll want to consider these factors:
Is it comfortable to sit down in?
If you're traveling via plane and plan to baby wear during the flight, it's key to know if your carrier will be comfortable sitting down! Many people opt for a wrap for this purpose specifically.
Baby's weight:
You should always check the weight limits to make sure you're getting the most out of your carrier. Young babies and babies 6 months+ need to be carried differently to keep their hips health.
Weather:
What's the weather for your destination? If it's going to be hot, you'll want to opt for something that is thinner or more breathable.
Longevity:
Do you plan to use this only for travel? If so, pick for what you need specifically for your travels. If not, get something that will last bit longer.
Style:
Some companies offer different styles and patterns.
Price:
Carriers can range from $40-$200.
Safety:
It's important to make sure the carrier you choose is Certified Hip Healthy by the International Hip Dysplasia Institute. This means they are designed to support your baby's hip health.
Support:
When considering the style of carrier, make sure you take into account what kind of support you need. If you need something with more hip and back support, you'll want to go with a standard carrier over a sling or wrap that offers less support.
Comfort:
You want both you and your baby to be comfortable! If you're not comfortable, it'll be a short baby wearing experience.
Ease of use:
Make sure you're comfortable using your carrier before traveling to that you can move through security quickly and don't get tangled up on the plan.
Privacy:
Additionally, if you plan on nursing while your baby is in the carrier, you'll want to make sure the carrier has a good privacy panel or that you bring a cover with you.
Durability:
You want your carrier to last through multiple babies! Check the weight limits and make sure the fabric can withstand some wear and tear.
You might also want to consider going for a bamboo or organic cotton material as they are better for your baby's skin.
Cleaning:
Parenthood is messy. Always check the washing instructions before checking out. Most carriers can be easily washed at home but it can't hurt to double check. Pick something that is machine washable.
Best Baby For Travel FAQ
How do I go through the airport with my carrier?
If your carrier has no metal, you might be able to wear your baby through the X-ray machine. However, most TSA agents will likely make you take the baby out.
Can I wear my baby on the plane?
If your baby is under age 2 and you did not buy them a ticket (aka they don't have their own seat) yes you can wear them in flight! The caveat is that you cannot wear them during takeoff and landing for safety reasons.
Which baby carrier is best for if I am nursing while traveling?
If you plan to wear a carrier and nurse while traveling, I would suggest:
If you want something more flexible, go with Solly Baby or Boba.
Or if you want more structure, go with the Boppy, Ergobabay.
If you want privacy, choose a wrap or use a swaddle blanket draped gently over you.
What carrier is best for a warmer climate?
I would pick either the Lillebaby All Seasons or the Aerloom for a warmer climate. You want something breathable that will not make your baby sweaty!
Newborn babies tend to get warmer faster so you'll want to keep that in mind when picking a fabric.
What is the best way to nurse in a carrier?
Nursing in a carrier is simple because your baby is already in an upright or slightly tilted position. If you're used to cradling your baby to nurse, use a wrap where they can be more to the side.
The primary idea is to lose the carrier side you want to nurse on. This might be a strap or a ring depending on what carrier you are using. The baby needs some room to nurse but you still want it to be secure enough to be supported.
Then, adjust your baby so they are comfortable at nipple level. You can support their neck or bottom gently with your hand until they can support themselves.
When you're done, simply re-adjust and you're good to go! You can nurse easily on the go with this method.
Best Baby Carrier For Nursing and Walking at The Same Time?
For nursing and walking at the same time, I would go for either the Solly Baby, Omni 360 or Konny Baby. These let you nurse with some privacy while also giving you support and being hands-free at the same time.
In Summary: Best Baby Carrier For Travel
There are a lot of good options for baby carriers for travel! You won't go wrong with any of these. I hope this post helped you pick the best travel baby carriers for you. Make sure you consider the factors I listed above while making your choice. Enjoy your trip!